Turn any audio gear smart
WiiM Mini is the ultimate music streamer with AirPlay 2, Spotify Connect, lossless audio and wireless multiroom connectivity. It turns your existing audio devices into smart, so you can control and play all your favorite music from the WiiM Home app or voice by using Alexa or Siri Voice Assistants.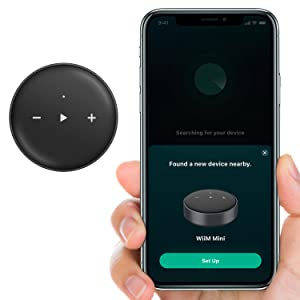 Easy to setup
1.Connect WiiM Mini to your stereo system using AUX OUT (not AUX IN) or SPDIF and plug in the USB cable to Type-C power port.
2. Download the free "WiiM Home" App (iOS and Android Supported).
3. Connect to the 2.4G/5G Hz WiFi network (5 GHz preferred) on your mobile device.
4. Open "WiiM Home" App, click "Set up" and follow the in-app instructions.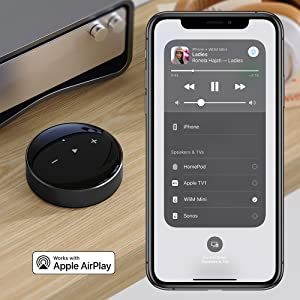 AirPlay 2 Receiver
WiiM Mini turns your stereo into an AirPlay 2-enabled speaker to stream the music that you love from iOS and Mac devices or stream TV audio from Apple TV. Use it with Siri on your phone or HomePod to voice control music selection, volume and playback. It's an easy and affordable way to connect your Apple devices to your favorite audio equipment and upgrade to an AirPlay 2 receiver.
Stream lossless audio wirelessly without audio cut
With the built-in 2.4G and 5G WiFi and Bluetooth 5.0, you can wirelessly stream up to 24-bit, 192 kHz lossless audio with bit perfect output from the world's most popular music services, online radio stations or your own contents on your phone, PC or NAS server. The operation range is the same as your WiFi signal coverage that's typically around 200 feet (60 metres) compared with the range of typical BT receiver that's around 30 feet (10 metres).
All music in one App
It's more convenient than ever to have your music and device control in one place. With the WiiM Home app, you could easily browse all your favorite music services all in the WiiM Home app without jumping to other music apps. Amazon Music, iHeartRadio, TIDAL, TuneIn, Napster, Deezer and Qobuz are all integrated in the WiiM Home app. You could also control the device EQ, setup music alarm, and create personalized routine using the WiiM Home app.
Multiroom audio with flexibility
It's easy to build your multiroom sound system with other AirPlay 2 speakers or Amazon Echo using the WiFi streaming source. You can create more flexible multiroom sound system with multiple WiiM Mini and your existing audio devices. It supports various audio source inputs including WiFi, BT or Aux input. Thus, it can work with almost your every music listening options.
Works with Alexa

Ask Alexa to control your WiiM Mini to playing music, listen to news or your favorite podcast by setting it as the preferred speaker in the Alexa App. Group your WiiM Mini with other Alexa devices for a wireless multiroom sound system. To use the WiiM Mini automatically, create a routine in the Alexa App.

Spotify Connect and TIDAL Connect

Use your Spotify or TIDAL app as your remote to control the WiiM Mini sound system and directly stream from these services. It gives much longer operational range than traditional bluetooth or AirPlay 2 receiver and liberates your mobile device for other tasks. For Spotify, it works for both Spotify Free and Premium users.

Music Alarm and Sleep Timer

Use the WiiM Home App set a wake up alarm or create a sleep timer with your favorite music, radio station or podcast. Use the app to adjust the sound volume for better sleep and wakeup each morning.
Gapless playback

Precise gapless playback is important to your listening experience. With precise gapless playback, the playback timing is guaranteed to be identical to the source. Our player uses two decoders to remove the extra samples at the beginning and end of each file and combines them. It works for all the supported music services and music on your phone or local network.

Twenty-four preset EQ

Twenty-four preset EQ gives you various choices to meet your specific listening habit. The preset EQ includes EQ choices from music genres, bass/treble adjustment or speech enhancement etc.

Premium Hi-Fi DAC


Featuring a high-precision, low-jitter Burr-Brown PCM5121 DAC, it supports up to 384 kHz/32-bit audio with 106 dB SNR. With the much larger bandwidth and more reliable connection provided by dual band Wi-Fi than Bluetooth, WiiM Mini is a true Hi-Res wireless streaming DAC device.
| | |
| --- | --- |
| Connectivity | Dual band WiFi supports 802.11 a/b/g/n/ac 2.4GHz and 5GHz network, Bluetooth 5.0 |
| Power Input | USB Type-C |
| Audio Output | 1 X 3.5mm Analog Aux output, 1 x Digital Optical (SPDIF) output |
| Audio Input | 1 x 3.5mm Analog Aux input |
| SNR | 102dB |
| THD | Analog Aux out: 0.005% |
| Music input | Up to 192 kHz, 24-bit |
| Music output | Up to 192 kHz, 24-bit (Bit perfect output, i.e., output matches input source format) |
| | |
| --- | --- |
| Music Format | MP3, AAC, ALAC, APE, FLAC, WAV, WMA, OGG |
| Sample Rate | Decoding up to 192 kHz, 24-bit |
| Protocol | AirPlay 2, DLNA, Spotify Connect, TIDAL Connect, Work with Alexa |
| Streaming Sources | Spotify, Amazon Music, Deezer, Tunein, Tidal, Qobuz, iHeartRadio, Napster, Soundmachine etc. |
| Control Devices | iOS and Android based devices, tablet, Alexa speaker |
| Button | Capacitive touch - Play/Pause, Volume +, Volume - |
| Accessories in package | Type-C Cable, 3.5mm male to male Cable, 3.5mm Aux to RCA Cable, Digital Optical Audio/Toslink Cable |
| Size/Weight | 2.7 x 2.7 x 0.9 in (69 x 69 x 24 mm)/1.4 oz (40 g) |