Our Take
"Let's have a quick cut to the chase, shall we? And the shortest cut is…. these unassuming little speakers sound, well, not what I was expecting. They are at the same time gutsy, yet polite too. They don't grab the audiophile ear right away, which is probably a good thing. Instead, you are seduced into their view of music reproduction. Entry-level Triangles of yore had a tendency, both in my experience and by reports from others, to be a bit zippy in the treble. The BR02s are anything but. Not rolled-off in the highs exactly, but restrained and overall better balanced than many small speakers. The bass is punchy and reasonably deep for a small stand mount speaker, even when positioned well away from a room's rear and side walls."
"Highly, seriously, enthusiastically recommended." - Wall Of Sound
The bookshelf speaker Borea BR02 is the most compact speaker of the range. It fits easily on a dedicated stand (S02/S04), your bookshelf or most other furniture. A perfect introduction to the world of hi-fi, this small speaker will surprise you by the immersion and sound amplitude it provides.
Equipped with a 25mm EFS silk dome tweeter and a 13cm transducer with a natural cellulose paper membrane, this speaker transposes all the richness of the voices and instruments tones, while maintaining a surprising bass level for its reduced size.
It will fit perfectly in rooms of up to 20m2, offering the dynamism and energy emblematic of TRIANGLE. The BR02 can also be used as an effect channel (Surround or Atmos) in home theater setups.
Product Details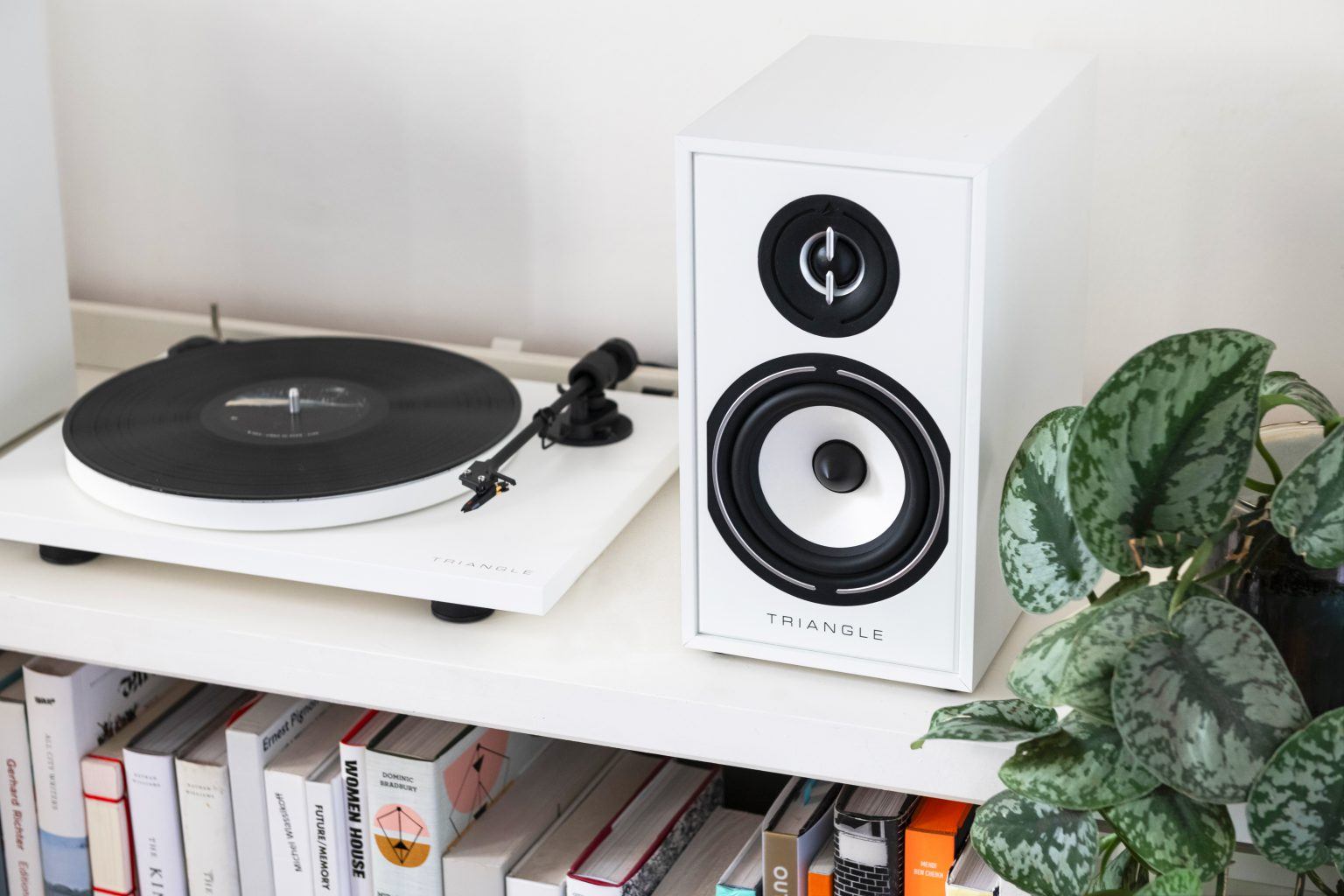 BOREA TECHNOLOGIES
Borea loudspeakers benefit from research and innovations from the Esprit Ez range for uncompromising sound reproduction.
EFS TWEETER - A DIFFUSION THROUGHOUT THE ROOM
The tweeter of the Borea range is equipped with a next-generation system called EFS* (Efficient Flow System).
It is based on the association of a 25mm silk dome, known for its neutrality, with a phase plug developed specifically to homogenize high-frequency diffusion. This system significantly reduces the directivity regardless of your listening location in the room.
The dome is placed inside the partial horn loading, reducing reflections and allowing a clear reproduction of the high frequencies. This transducer is powered by a neodymium motor generating high magnetic power in a compact size. It is coupled to a cooling system, ensuring a better power handling.
MIDRANGE IN NATURAL CELLULOSE - A UNIQUE TONALITY
The Borea range, inheritor of the Esprit Ez technological innovations, also incorporates a midrange driver with a membrane made out of 100% natural cellulose paper, receiving no surface treatment. This paper membrane, unique to TRIANGLE, avoids any coloration of the intermediate frequencies, and transposes the voices with stunning realism and tonality.
In an ongoing pursuit of excellence, the profile of the cone was also redesigned to improve the rigidity and now provides an extended frequency response.
NEUTRALITY AND SOUND CLARITY
Significant research has been carried out to reduce internal vibrations in the cabinet. Unprecedented in speakers of this category, all models of the Borea range feature perforated internal panels in MDF & EVA foam, thus stiffening the transducer/cabinet combination.
At the end of each internal reinforcement, a high-density EVA foam gasket ensures the contact between the motor of the transducer and the reinforcement. The vibrations of the driver generated by the suspension of the membrane are greatly mitigated, the latter transmitting a low residual vibration to the cabinet.
DECOUPLING
Each speaker of the Borea range has its own decoupling system.
The bookshelf is equipped with rubber pads, protecting your speakers and limiting vibrations transmitted.
MAGNETIC GRILL
All speakers in the Borea range have a magnetic protective grill, showing no visible inserts or screws. It is recommended to remove the grills when listening to the speakers, as they can impact the sound.
Content Pack
2 x Triangle Borea BR02 Speakers
2 x protections grids
8 x adhesive rubber plots
1 x user manual

Tech specs
| | |
| --- | --- |
| Type | Bookshelf Speakers |
| Ways | 2 |
| Driver | 13cm Natural Cellulose Paper Membrane Transducer |
| Tweeter | 25mm EFS Silk Dome Tweeters |
| Power Handling (W RMS) | 80 |
| Optimal Impedance (Ohms) | 3.6 / 8 |
| Sensitivity (dB/W/m) | 89 |
| Bandwidth (+/- 3dB Hz-KHz) | 51 - 22 |
| Dimensions (LxHxP) (mm) | 176 x 310 x 274 |
| Net Weight | 4.87 kg |
| Gross Weight | 11.79 kg |
TechX Guarantee
We understand the anxiety of shopping online in Malaysia particularly on startup and small business website; you don't get to physically hold the product before buying, how will you know if the product will live up to your expectations,... - which is why we are committed to
Only sell/advertise products or brands that we believe in

Thoroughly research a product/model to save you time and get the most value for your money

Go the extra mile to properly package items for shipping

Rely on reputable courier service (*not necessarily the cheapest)

Provide second to none customer service (Lazada/Shopee gets thousands of visitors a day, we have Only You to focus on)

Safeguarding your privacy & offer a seamless user experience on our ecommerce webpage

Ensure all pages and content on TechX are accessed using SSL encryption (*look for the padlock icon on the left side of the address bar...SSL allows sensitive information such as credit card numbers, login credentials to be transmitted securely)

Your satisfaction! We believe we sourced for the best quality products around, however sometimes life happens. If for any reason you are not 100% satisfied with the quality of any product, we will gladly refund your money + 20% of what your paid
In the event you still need further assurance, write to us via our Contact Form and we'll get back within 2 hours.