Our take
"If you don't quite trust your AV setup to a cable with 'basics' in the name, this offering from Syncwire is worth a look. The tech specs are exactly the same, but Syncwire does boast that the cable can survive being bent over 3,000 times, so it should win when it comes to durability. It's available in lengths up to 3m, but that should be plenty for most setups." - Tech Advisor
"In our analysis of 74 expert reviews, the Syncwire 4K HDMI 2.0 Gold Plated Cable, 6.5ft. placed 2nd when we looked at the top 11 products in the category." - DWYM (Recommended)
Simple, Superior and Reliable
Why choose Syncwire HDMI Cables for your HDTV, Computer, Xbox, PS4 and other HDMI enabled devices? High quality sound, pictures and Ethernet in 1 Cable, Syncwire HDMI cable is ideal for working, video streaming and gaming. Perfect if you want to experience the true power of your home entertainment system.
Dynamically synchronized video and audio streams: Synwire HDMI cable can transmit two video streams (dual view) at once and up to four audio streams all at the same time.
High-Resolution Pictures: Supports for Ultra High Definition (4K UHD) Video including 3D, Full HD 1080p, Ultra HD (2k and 4k), and deep color.
HD Audio: Syncwire HDMI cable enables you to transmit high-resolution sound formats like Dolby TrueHD or DTS HD as well as 32-channel audio and up to 1536 kHz total audio. CEC and ARC features allow you to simplify your setup by letting you control your devices from one control point.
High-Speed: Syncwire High-Speed HDMI 2.0 cable significantly extends bandwidth of up to 18Gbps. Enjoy HD video and digital audio combined into one cable with the Ethernet-ready High-Speed HDMI Cable from Syncwire.
How will Syncwire HDMI cable work with your HDMI devices? Syncwire High-Speed HDMI cable is compatible with all HDMI 2.0 devices, while backwards compatible with all previous HDMI standards. When two devices with different HDMI standards are connected, they will automatically find the best available connection. Plug and play. No external power adapter is needed. With this cable, you can mirror or extend your desktop for an expanded workstation or show presentations at school or work.
How will the HDMI cable ensure your good experience? Unique Testing in true-to-life situations ensures ultra-durability and prevents damages from over-using. Besides, our HDMI cables are tested on at least 3 different HDMI devices to ensure that the quality of your experience is never compromised.
What make Syncwire stand out from other DHMI cables? Different from most other HDMI cables in the market, Syncwire devotes to providing clients the best experience of enjoying high-resolution pictures and HD audio.
Flawless Transmission: Constructed with full-metal connectors, double-shielding (alu Mylar foil & aluminum braiding), 24k gold-plated connectors, and oxygen-free copper, maintain the integrity and purity of digital signals. You can look forward to years of superb sound and pictures.
Unrivaled Durability: Designed and built with only premium materials, it has been tested to withstand at least 3,000 cycles of 90 degree bend. And Syncwire HDMI cable can hold up to 5kg. It is simply one of the most durable cables on the market.
Flexible Design: All of its interior wires are wrapped to prevent friction or fraying, and its exterior shell has a smooth finish to prevent it from getting snagged or ripped.
In a word, Syncwire HDMI cable is Reliable, Consistent, and Durable. You can look forward to experiencing outstanding, uninterrupted sound and pictures for years.
Product details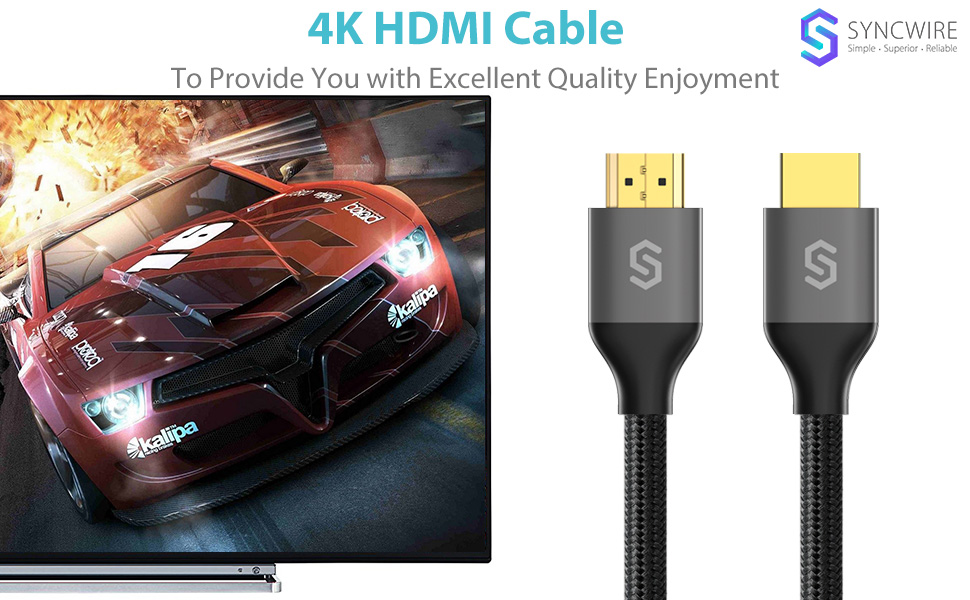 HDMI cable: Supports Ethernet, 3D, 4K, Full HD, 1440p, 1080p videos and Audio Return Channel (ARC) compatible with most of HDMI include HDMI 1.4/1.3/1.2/1.1
Male to Male HDMI cord: Compatible for Apple TV, projector, Blu-ray Players, Fire TV, HDTV, PS4, PS3, Xbox One, Xbox 360, PC, AV Receiver, HDTV, and etc.
Latest HDMI 2.0: High speed, supports bandwidth up to 18Gbps. Ensure high-resolution pictures, HD Audio, and internet in one user-friendly HDMI cable.
Quality 4K HDMI: Gold-plated, corrosion-resistant, oxygen-free connectors and nylon braided outer layer for better image and sound quality.
Supported video resolutions:
4K Ultra HD 2160p (3840 × 2160) at 30hz - 60hz

2K Quad HD 1440p (2560 × 1440) at 30hz -120hz

2K Full HD 1080p (1920 × 1080) at 30hz -240hz

1K HD 720p (1280

×

720) at 30hz -240hz

3D, HDR

Wide-angle 21:9 video aspect ratios
Extended Mode and Mirror Mode:
You can choose either "Mirror" or "Extended" mode for your displays.
In Mirror mode, you have a single desktop and it's mirrored on all your displays.
In Extended Desktop mode, each display simply gives you more desktop room and they're separate.
Compatible with all HDMI devices:
Easily connects your TV to your Blu-ray Players, Fire TV, Apple TV, PS4, PS3, Xbox One, Xbox 360, Computers and other HDMI-enabled devices to TVs, displays, A/V Receivers and many more.
TechX Guarantee
We understand the anxiety of shopping online in Malaysia particularly on startup and small business website; you don't get to physically hold the product before buying, how will you know if the product will live up to your expectations,... - which is why we are committed to
Only sell/advertise products or brands that we believe in

Thoroughly research a product/model to save you time and get the most value for your money

Go the extra mile to properly package items for shipping

Rely on reputable courier service (*not necessarily the cheapest)

Provide second to none customer service (Lazada/Shopee gets thousands of visitors a day, we have Only You to focus on)

Safeguarding your privacy & offer a seamless user experience on our ecommerce webpage

Ensure all pages and content on TechX are accessed using SSL encryption (*look for the padlock icon on the left side of the address bar...SSL allows sensitive information such as credit card numbers, login credentials to be transmitted securely)

Your satisfaction! We believe we sourced for the best quality products around, however sometimes life happens. If for any reason you are not 100% satisfied with the quality of any product, we will gladly refund your money + 20% of what your paid
In the event you still need further assurance, write to us via our Contact Form and we'll get back within 2 hours.