Our take
Get better sound out of your speakers with the SMSL Q5 Pro, an impressive DAC/power amp for the price. Capable of driving high-resolution audio with a sampling rate of 44.1–192 kHz, it features nearly every input imaginable for your desktop, flat-screen, Blu-ray player, and more. Use the key control function, or make adjustments from across the room with the included remote control.
Pros: Tiny foam factor on the desk, adjustable bass and treble, a lot of input options including analog, USB and coaxial, remote control, display for volume level and input sources and enough power for small to medium bookshelf speakers.
"The sound is surprisingly good. Everything is in their right place with an extremely low(ie. quiet) noise floor allowing good decay and separation. I would say that is has a neutral, clean quality that will bring through the source material without added warmth or tonality, which, paired with the easy bass/treble adjustment, should make it very easy to pair with any speakers that you throw at it." Credit: u/whatsnewsisyphus
Product details
Precision-machined from a solid aluminum block, the chassis is sleek and sturdy, and its compact size (5.4 inches wide by 4.1 inches deep) minimizes clutter on your desk. The front panel features a power button, volume knob, and an easy-to-read LED digital tube display screen. On the rear panel, you'll find gold-plated inputs (3.5 millimeter, USB, optical, and digital coaxial), as well as gold-plated speaker outputs.
With a Cirrus Logic CS5341 converter and an SA9023 embedded USB interface, the SMSL Q5 Pro (latest revision by the manufacturer) is a particularly gifted amplifier. It integrates a Texas Instruments TAS5508 + TAS5342 amplifier module delivering 2x 45W at 4 Ohms and 2x 25W at 8 Ohms.

This pro version now includes a Subwoofer output (SW OUTPUT) specially designed for subwoofers.

Versatile, it allows you to assign it 4 sources (stereo 3.5 jack, Coaxial S/PDIF, Toslink Optics and Micro USB). It has a digital display and a remote control for easy control.

Its internal architecture as well as the choice of materials and finishes are all assets that make the Q5 a particularly efficient amplifier suitable for a wide range of configurations.

"It must be recognized that this full digital amplifier S.M.S.L.Q5 pro provides, with a really small footprint and low calorie emission, sound results that can satisfy demanding amateurs, including us. A very surprising technology." Review by Qobuz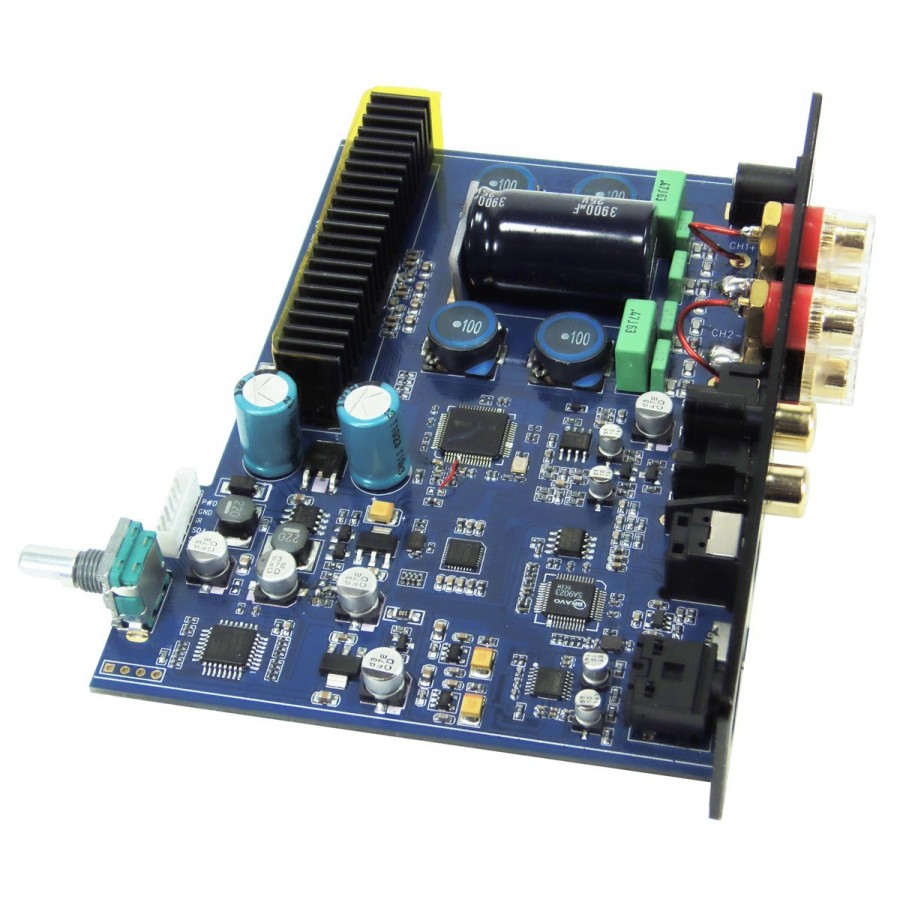 Tech specs
Input

Optical, Coaxial, Analog, Computer USB

Output

2-Channel Stereo

Sampling rate

44.1-192kHz (coaxial • Optical)
44.1-96kHz (computer USB)


Bit wide

16 - 24 Bit

Frequency response

20Hz - 22kHz

Impedance adaptation

4 - 8 Ohm


Maximum output power

45W +45W( 4 Ohm )
25W +25W(8 Ohm


Adapter resistance

4Ω-8Ω


THD+N

0.05%

Dynamic range

102dB

SNR

81dB

USB audio spec

16 - 24 bit/ 44.1kHz - 96kHz

USB compatibility

Windows, Mac OS X

Power consumption

102W (max)

Dimension

137 x 103 x 33mm



TechX Guarantee
We understand the anxiety of shopping online in Malaysia particularly on startup and small business website; you don't get to physically hold the product before buying, how will you know if the product will live up to your expectations, ... - which is why we are committed to
Only sell/advertise products or brands that we believe in

Thoroughly research a product/model to save you time and get the most value for your money

Go the extra mile to properly package items for shipping

Rely on reputable courier service (*not necessarily the cheapest)

Provide second to none customer service (Lazada/ Shopee gets thousands of visitors a day, we have Only You to focus on)

Safeguarding your privacy & offer a seamless user experience on our ecommerce webpage

Ensure all pages and content on techX are accessed using SSL encryption (*look for the padlock icon on the left side of the address bar...SSL allows sensitive information such as credit card numbers, login credentials to be transmitted securely)

Your satisfaction! We believe we sourced for the best quality products around, however sometimes life happens. If for any reason you are not 100% satisfied with the quality of any product, we will gladly refund your money + 20% of what your paid
In the event you still need further assurance, write to us via our Contact Form and we'll get back within 2 hours