Our Take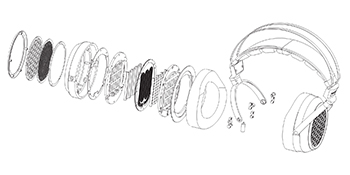 Sound Feature : Warm, Meaty & Juicy
Recommendation : Pair with a professional headphone amplifier for best listening experience
Sivga has created a precious art with the perfect combination of materials, workmanship and sound.
Launched in 2020, the technical team had spent more than 3 years on research and development of ID design, acoustic design, speaker structure and diaphragm material, etc. They spent countless efforts and energy till the headphone was finalized.
The entire production process consumes a lot of manpower and time, including the selection of wood, wood fumigation, wood dry humidity control, CNC four-axis linkage processing engraving, grinding, polishing, cleaning, repeated oiling & drying.
DESIGN - Sivga P-II uses 97mm x 76mm ultra-nano double-sided magnetic planar diaphragm unit as the driver, combined with the superior sound characteristics of the black walnut chamber.
SOUND - The overall sound direction of the Sivga P-II is very comprehensive: the bass, medium and high frequencies are balanced very well and flows naturally, sound is free and rich in details with optimized sound layering and transparency.
CLASSIC - In order to make the sound quality to a maximum and ideal level, Sivga P-II continues the classic style, choosing the material from premium natural solid walnut wood as a headphone chamber and adhere to the traditional craftsmanship.
COMFORT - Headband padding and ear pads are made of high quality leather to ensure the headphone is closer to the listener's head and provide better comfort.
Product Details

After three years of hard research and development, tuning, innovation and breakthrough, the planar magnetic wood headphone P-II has finally taken shape. It is a work that has gathered countless effort and sweat, including overall industrial design, material selection, acoustic solution to mass production and etc. Even for the very small parts such as screw and ear cups, Sivga designed them independently.
Sivga adheres to the traditional craft manual production. With selection of high-quality natural solid wood as housing material, the whole production process consumes a lot of manpower and time. Due to the complex process, great difficulty in processing, long time of production and scarcity of materials, it is bound to be produced in small quantities.
P-II is equipped with 97x67mm ultra nano composite planar diaphragm unit as the driver, combined with the superior sound characteristics of black walnut wood housing, the overall direction of its sound signature is very comprehensive. Three frequencies are balanced very well, exhibiting natural coherence across the frequencies with airiness, rich details, wide sound stage, distinct layers of clarity and transparency.
Each headphone is not only a work of material, design, sound and craftsmanship, but also a rare work of art.
Housing
The headphone's housing is a combination of black walnut wood and CNC machined metal parts. Black walnut wood has superior sound characteristics. Each wood housing grain is different, so each headphone is unique. Metal ring, cloud shaped mesh and wood housing gives a classic and luxury look.
Wood Housing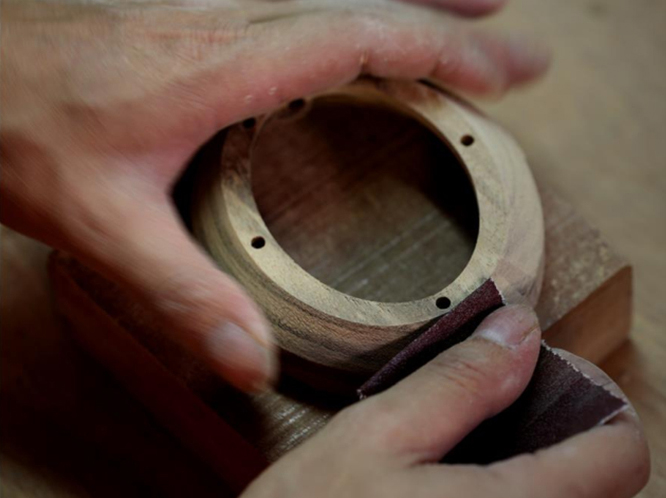 The entire wood production consumes a lot of manpower and time.
The processes are : wood selection – cutting – CNC machining – polishing 1st painting – drying – polishing – 2nd painting – drying – polishing – 3rd painting – drying – details fixing.
OTV™️ Planar Diagram Driver
Sivga P-II comes with 97mm x 76mm PCB ultra-nano double-sided magnetic planar diaphragm driver and aluminum coil, with independently developed OTV technology. Because this film is ultra-thin, the yield is low and a lot of micro details can be easily picked up. Spectacular imaging, low distortion, and perfectly balanced sound while the whole unit being thinner and lighter.
With double neodymium magnet structure and 108 well arranged acoustic holes, the air flow is very good, combined with solid wood housing and cloud design mesh, the sound stage is wide, natural, detailed and transparent.
Ear Pad / EarMuffs
The headband sheath and earmuffs are using high quality leather and very comfortable to wear. There are enough room in the ear cups to not cause any pressure on the ears and provides good seal. Both for comfort and sound, this headphone gives you a better experience.



Design : Based on the data for different face shapes, this ear pad comes with unique oblique design, so it has a very good seal for ears and can be worn for a long time without fatigue. This design is good both for comfortability and sound quality.

The space inside the ear pad is in oval design, which matches the ear shape, so it will not cause any pressure on the ears.

Material : The ear pads are made of high quality leather and skin friendly velvet fabric, and it fits very comfortably.
Headband / Frame
The main structure is all metal, stainless steel in an all matte black color theme. Solid and thick, adding some extra weight but also much higher durability. The steel part goes from the upper headband arc down to the round yokes.
The connection part is made of aviation aluminum material with CNC machining, so it is with high durability. Two ear cups can be rotated up to 90°, convenient for single-side monitor.

The head pad is with bulged design, so there is no pressure while wearing the headphone for a long time. The head pad is adjustable with elastic band inside, and you can get a good fit easily.
Audio Cable
6N single crystal copper wire - relatively soft, tangle resistant and carries no noise. The plug connector is of the new 4.4mm balanced type which is getting more popular with new audio devices. At the same time, equipped with 4.4 to 3.5mm cable, it makes your headphone work with more players.
Package Content
Sivga P-II Headphone x1
1.6mm Audio Cable x1
4.4mm to 3.5mm Adaptor x1
Headphone Carrying Bag x1
Cable Bag x1
Tech Specs
| | |
| --- | --- |
| Style | Over-Ear |
| Transducer Type | Planar Magnetic |
| Transducer Size | 97mm x 76mm |
| Frequency Response | 20Hz - 40kHz |
| Sensitivity | 98dB +/-3dB |
| Impedance | 32 Ohm +/-15% |
| Cable Length | 1.6m +/-0.2m |
| Connector | 4.4mm Balanced |
| Weight | 420g |
| Wood | Walnut |
TechX Guarantee
We understand the anxiety of shopping online in Malaysia particularly on startup and small business website; you don't get to physically hold the product before buying, how will you know if the product will live up to your expectations,... - which is why we are committed to
Only sell/advertise products or brands that we believe in

Thoroughly research a product/model to save you time and get the most value for your money

Go the extra mile to properly package items for shipping

Rely on reputable courier service (*not necessarily the cheapest)

Provide second to none customer service (Lazada/Shopee gets thousands of visitors a day, we have Only You to focus on)

Safeguarding your privacy & offer a seamless user experience on our ecommerce webpage

Ensure all pages and content on TechX are accessed using SSL encryption (*look for the padlock icon on the left side of the address bar...SSL allows sensitive information such as credit card numbers, login credentials to be transmitted securely)

Your satisfaction! We believe we sourced for the best quality products around, however sometimes life happens. If for any reason you are not 100% satisfied with the quality of any product, we will gladly refund your money + 20% of what your paid
In the event you still need further assurance, write to us via our Contact Form and we'll get back within 2 hours.