Our take
Shop Micca M-6S 6.5-in poly woofer and a 1-in soft dome tweeter in-wall speakers designed to take your surround sound experience to the next level with an affordable price tag. Overall, Micca in-wall & in-ceiling speakers deliver exceptional clarity, value and are well reviewed by owners and critics worldwide.
Product details
The M-6S is a 2-way in-wall speaker with a high excursion 6.5 inch poly woofer and a 1 inch soft dome tweeter. This combination provides the utmost flexibility in terms of configuration and suitability to different types of audio tastes. From providing relaxed background music to a high impact multi-channel home theater system, the M-6S is built with carefully selected components and rigorous design to deliver exceptional value and performance.
Simple to install and paintable to match existing wall color, the M-6S is an ideal way to add high quality sound to a room without taking up any additional space.
Poly-Mica Woofer
In addition to smooth and natural vocals, the 6.5 inch woofer is capable of excellent bass output, delivering impactful performance and ensuring seamless integration if a subwoofer is used.
Pivoting Silk Dome Tweeter
The 1-inch silk dome tweeter generates abundant detail and clarity, projecting a solid and focused image for all sources. Pivoting design means the tweeter can be aimed for a spacious sound stage
Advanced crossover design
Perfect integration between the tweeter and woofer is achieved through a 12dB crossover network that ensures coherent transition in the critical upper midrange region.
Easy Installation
Use the included template to mark and cut the mounting hole with a drywall knife. Built-in mounting tabs make installation a breeze. Requiring only a screw driver, the mounting tabs securely grab onto surrounding drywall.

Micca home audio products focus on delivering unbeatable value, with each product engineered to offer the most performance at a price point.

Proudly designed in the USA, built with carefully selected components and rigorous design, Micca speakers deliver exceptional sound quality and are well reviewed by owners and critics.
Selection
In-wall vs in-ceiling speakers? The difference between the two is quite simple - in-wall speakers are mounted front-firing with the woofers pointed horizontally across the room,while ceiling speakers are mounted down-firing from the ceiling above.
The M-8S and M-6S shares common components and design with other Media Series in-wall/in-ceiling speakers, making for a perfect tonal match when mixed and matched.
For a given installation location, it is always recommended to install the largest Media Series speaker model that will fit. Doing so provides the fullest sound and best performance at all playback levels.
In locations where the larger M-8S will not fit, the smaller M-6S can be used instead.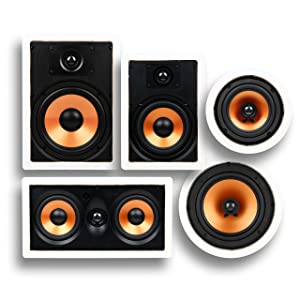 Tech specs
| | |
| --- | --- |
| Type | 6.5-inch in-wall speaker |
| Woofer | Pivoting 1-inch silk dome |
| Tweeter | 6.5-inch Poly-Mica Woofer |
| Crossover | 12dB/ Octave |
| Frequency response | 50Hz - 20kHz |
| Power handling | 80 watts |
| Sensitivity | 87dB 1W/1M |
| Dimensions | 8.7" (W) x 12.1" (H) |
| Cutout dimensions | 7.3" (W) x 10.7" (H) |
| Mounting depth | 2.9" |
TechX Guarantee
We understand the anxiety of shopping online in Malaysia particularly on startup and small business website; you don't get to physically hold the product before buying, how will you know if the product will live up to your expectations, ... - which is why we are committed to
Only sell/advertise products or brands that we believe in

Thoroughly research a product/model to save you time and get the most value for your money

Go the extra mile to properly package items for shipping

Rely on reputable courier service (*not necessarily the cheapest)

Provide second to none customer service (Lazada/ Shopee gets thousands of visitors a day, we have Only You to focus on)

Safeguarding your privacy & offer a seamless user experience on our ecommerce webpage

Ensure all pages and content on TechX are accessed using SSL encryption (*look for the padlock icon on the left side of the address bar...SSL allows sensitive information such as credit card numbers, login credentials to be transmitted securely)

Your satisfaction! We believe we sourced for the best quality products around, however sometimes life happens. If for any reason you are not 100% satisfied with the quality of any product, we will gladly refund your money + 20% of what your paid
In the event you still need further assurance, write to us via our Contact Form and we'll get back within 2 hours.