Our take
"The YU6s makes me again question the market's move to mid-price soundbars,when you could have a pair of these terrific speakers for the same or less money" Steven Guttenberg, Reviewer
"What I heard was a warm but open sound with natural vocal timbre, a slightly reserved but not heavily anesthetized top end and enough bass from the 5.25-inch woofers to set every surface in the room a-humming." Mark Fleischmann, Reviewer
Sound&Vision Review
Product details
Satisfy your craving for powerful, full-impact sound with YU6. Armed with a formidable Class D amplifier pumping out 200-Watt peak power, YU6 will have you questioning what it really means to be loud. Its 5.25-inch Kevlar® drivers and 1-inch silk dome tweeters inject detailed sound into every square inch of living space, evoking emotions that can only be expressed with an ear-to-ear grin.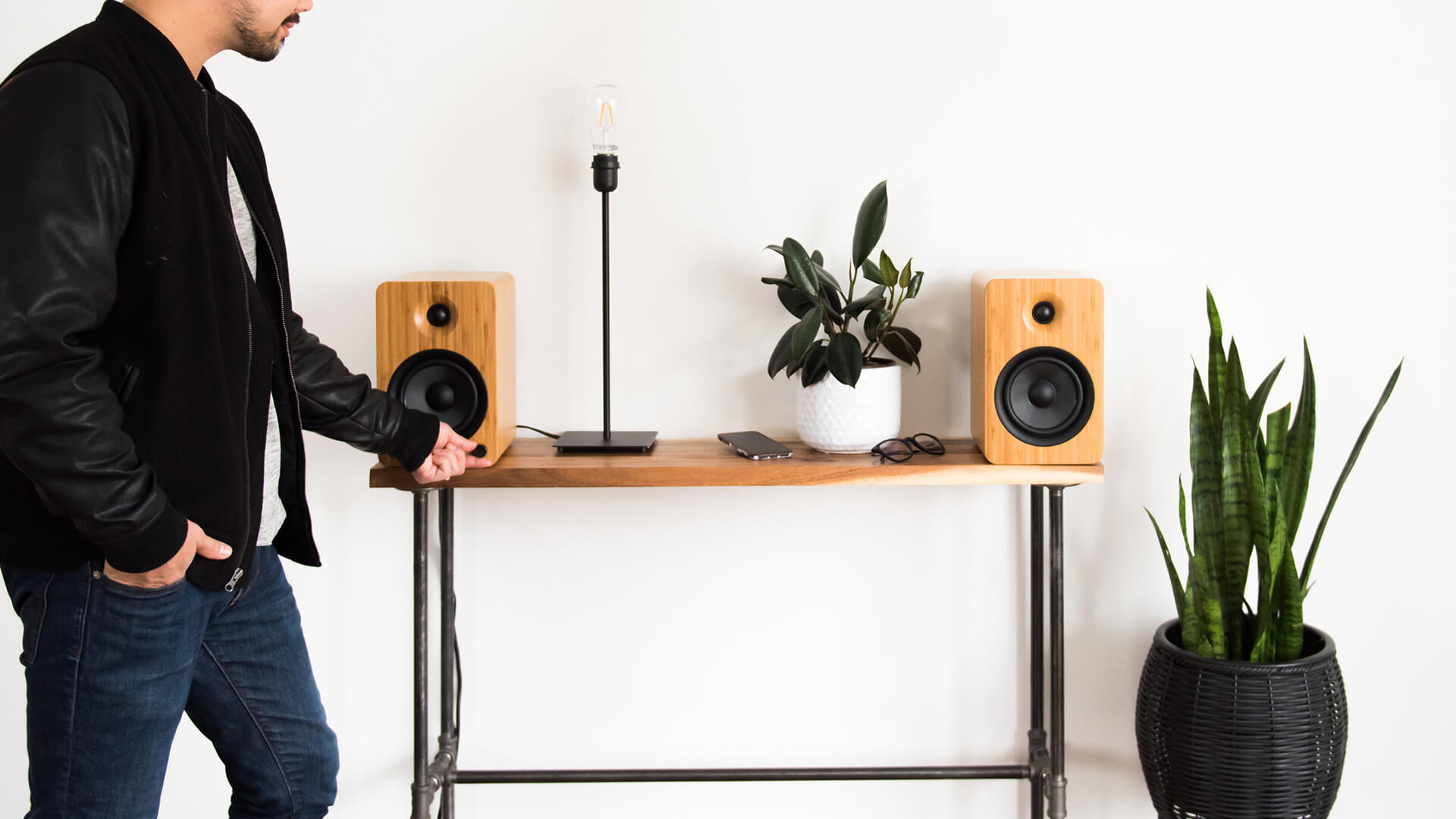 Features
Two-Way Driver Design: The Kanto YU6 powered speaker system features a two-way driver design with a 1" silk dome tweeter and 5.25" kevlar cone woofer for clear high and detailed midrange/midbass frequencies.
1" Silk Dome Tweeter: The 1" tweeter is made from silk to deliver a high-frequency range that's bright and refined. The tweeter's dome shape improves sound dispersion to ensure your ears capture every sound, regardless of where you are in the room.
5.25" Kevlar Cone Woofer: The 5.25" woofer cone is made of a kevlar material and features a rubber surround for long-lasting performance. The woofer provides surprisingly controlled and accurate low frequency response.
Class D Amplifier: The 1" tweeter and 5.25" woofer are powered by a built-in 35 watt (RMS) / 70 watt (Peak) x 2 channel amplifier for dynamic sound reproduction. The built-in amplifier is located in the YU6's "Left" powered speaker. The binding-post output terminals on back of the "Left" powered speaker and the included 16' speaker wire provide connection to the "Right" passive speaker's binding-post input terminals.
Bass Reflex Cabinet: The Kanto YU6 powered speaker system utilizes a bass reflex enclosure design with a rear-firing port for greater efficiency and bigger bass response. The speaker cabinet is available in black, white, grey, teal, red, and bamboo finishes.
24-Bit/96kHz DAC: The Kanto YU6 powered speaker system utilizes a 24-bit/96kHz resolution DAC (digital-to-analog converter) for high-quality sound reproduction.
Bluetooth Audio Streaming: The Kanto YU6 offers built-in Bluetooth 4.0 with support for wireless audio streaming (A2DP) and control (AVRCP). You'll be able to wirelessly stream your music libraries, music apps, and other audio content on your Bluetooth source device (such as your smartphone, tablet, laptop, or computer) to the YU6 speaker system. You can pair multiple Bluetooth source devices with the YU6 powered speaker system, but only one device can be connected and used for playback at a time.
Music Codecs: In addition to supporting the standard Bluetooth SBC codec, the YU6 system offers support for Qualcomm's aptX codec. Qualcomm's aptX codec provides even better sound quality with lossless, "CD-quality" (16-bit/44.1kHz) streaming for aptX-compatible source devices, such as many Android smartphones and tablet with OS 4.0 or newer.
Playback Control: You'll also be able to control basic playback functions (such as Play/Pause & Previous/Next Track) from the included remote control. Advanced music playback and song/artist display will still be done from your Bluetooth source device.
Line or Phono Input: There is a 3.5mm Aux input (located on the "Left" powered speaker) for connecting a portable digital audio player with a headphone jack output. The YU6 also comes equipped with a stereo audio RCA input (located on the "Left" powered speaker) and built-in phono preamp, allowing you to connect a line-level source or phono turntable. You can toggle between line-level and phono with a simple flip of a switch that is located on the rear-panel of the "Left" powered speaker. In addition, there is a ground-terminal to reduce noise.
Optical Digital Inputs: The YU6 is equipped with two optical (toslink) digital audio inputs (located on the "Left" powered speaker) for connection to your TV, satellite/cable box, Blu-ray player, or game console. The optical digital inputs support 2ch PCM only, up to 24-bit/96kHz (not compatible with Dolby Digital/DTS).
USB Charging Port: Use YU6's USB charging port (located on the "Left" powered speaker) to conveniently power and charge your smartphone or tablet device. The USB charging port is rated at 5V/1A.
Sub Out: The Kanto YU6 is equipped with a mono-RCA subwoofer output (located on the "Left" powered speaker) for connecting a powered subwoofer (sold separately - see Accessories Tab) to add deep, low bass to the speaker system. The YU6's sub output is full-range, so you'll need a powered subwoofer with a built-in low-pass crossover.
Simple Control: The included IR remote control provides wireless operation of the Kanto YU6 speaker system (the IR receiver is located on the "Left" powered speaker). From the wireless remote you can control Power On/Off, Source Selection, Volume Up/Down, Mute, Bass/Treble, Balance, Play/Pause, and Previous/Next Track. There is also a rotary Volume/Source control knob on the front-panel and a Power on/off switch on the back-panel of the "Left" powered speaker.
Mounting & Placement Options: The YU6 powered speaker system is designed for either bookshelf or stand mounting. The speakers come with self-adhesive rubber feet to protect your furniture (the feet add approximately 0.125" to the overall height of the speakers). The space between the two speakers and the distance from the listener is important. If the speakers are positioned too close or too far apart, stereo imaging will not be fully developed. Room characteristics and positioning also have a profound effect on the performance of the speakers, so time and effort devoted to achieving the optimum positions will be rewarded.
YU6 is designed to perform optimally at ear level and positioned at least 8" from the rear wall in an average listening room. However, it may not be possible to install the speakers in this position since rooms vary in shape, size, and furnishing. A certain amount of experimentation may be necessary to determine the most suitable position.

Moving the speakers very close to the rear wall will enhance the bass frequencies, but will tend to reduce soundstage depth, while moving the speakers away from the rear wall will tend to have the opposite effect. Avoid positioning the speakers close to or in the corners of the room, as this will excite undesirable room coupling in the low and middle frequencies. If the width of the rear wall is limited then toe-in the speakers slightly to reduce reflections.
Power Requirements: The Kanto YU6's "Left" powered speaker includes a detachable 6' AC power cord that will need to be plugged into an AC power outlet or surge protector. The "Right" passive speaker does not require AC power.
Auto Power On/Off: The Kanto YU6 speaker system features Auto Power On and Off functions to save power. When no audio signal has been detected for 15 minutes, the YU6 system will put itself into Standby (Off) mode. If the audio signal returns via the same input that the YU6 was playing when it entered standby, the system will wake up and resume playing. It can also be woken up manually by pressing the "Power" button on the remote or pressing the rotary control knob on the front-panel of the "Left" powered speaker.
Note: The Automatic Power On function will not work if the YU6 system is manually switched to Standby (Off) mode using the remote or control knob.

Tech specs
Woofer

5-1/4" kevlar woofer

Tweeter

1" silk dome tweeter

Power handling

built-in Class D amp provides 100 watts total RMS power

Frequency response

50 - 20,000Hz (±6 dB)

Dimensions

6-15/16"W x 10-3/4" H x 8-1/8"D

Features

Bluetooth 4.0 with high quality aptX audio streaming

Switchable phono preamp built-in

Rear-firing bass-reflex port


Remote included
Connections:
Gold-plated binding post speaker terminals


Dual Toslink optical digital audio inputs

supports up 24bit/ 96kHz input (two-channel PCM only)


Analog Stereo RCA input with phono switch

Analog 3.5mm aux input (6.5ft cable included)

Mono RCA subwoofer output

USB Type A charging port (5V/ 1A)

*16ft speaker wire included to connect left and right speaker
TechX Guarantee
We understand the anxiety of shopping online in Malaysia particularly on startup and small business website; you don't get to physically hold the product before buying, how will you know if the product will live up to your expectations, ... - which is why we are committed to
Only sell/advertise products or brands that we believe in

Thoroughly research a product/model to save you time and get the most value for your money

Go the extra mile to properly package items for shipping

Rely on reputable courier service (*not necessarily the cheapest)

Provide second to none customer service (Lazada/ Shopee gets thousands of visitors a day, we have Only You to focus on)

Safeguarding your privacy & offer a seamless user experience on our ecommerce webpage

Ensure all pages and content on TechX are accessed using SSL encryption (*look for the padlock icon on the left side of the address bar...SSL allows sensitive information such as credit card numbers, login credentials to be transmitted securely)

Your satisfaction! We believe we sourced for the best quality products around, however sometimes life happens. If for any reason you are not 100% satisfied with the quality of any product, we will gladly refund your money + 20% of what your paid

12-months manufacturer warranty 1-1 exchange
In the event you still need further assurance, write to us via our Contact Form and we'll get back within 2 hours.