Our take
If you are looking for a Bluetooth DAC and you like the sound of the IFI ZEN DAC then the IFI Zen Air Blue will be a easy recommendation for you if you are looking for a pure Bluetooth DAC.
Unfortunately this only has a single input which means you can ONLY use bluetooth to connect to your DAC, the IFI Zen Air Blue does not have a USB nor a Optical input, so if USB / Optical / Coxial are important then this may not be the product for you.
Product details
ZEN Air Blue
Get maximum sound quality from Bluetooth audio with the ZEN Air Blue.
The ZEN Air Blue is a high-quality Bluetooth audio receiver.
It converts Bluetooth audio streams from smartphones, computers or tablets into an audio stream suitable for headphones, amplifiers and active speakers (speakers that run on their own DC power).
The ZEN Air Blue will give you the maximum sound quality from your device – your smartphone, computer or tablet – as it operates at the highest audio resolution level of any Bluetooth system.
The Bluetooth system inside has been upgraded by iFi to avoid the 40% drop in audio quality you typically experience with standard Bluetooth (compared to wired audio).
It's the ideal way to wirelessly connect your smart device to a sound system in super hi-res (high resolution).
The ZEN Air Blue is ideal as part of a simple, new set-up for someone just starting out in audio who wants to experience the high quality of music streaming apps like Apple Music, Tidal and Qobuz.
Just connect your laptop, smartphone or tablet to the ZEN Air Blue via Bluetooth and connect the ZEN Air Blue to your amplifier or active speakers via the RCA connections at the back.
The ZEN Air Blue supports any current Bluetooth stereo audio codec (signal) available on the market today.
AAC – better than SBC, widely used, found in Apple devices
aptX HD, aptxLL and aptX Adaptive – variations on an improved aptX
aptX – better than SBC, widely used, found in Android devices
LDAC – extremely high quality, designed by Sony
LHDC – extremely high quality, designed by Huawei
SBC – standard Bluetooth used by most audio devices
Whatever device you are are using for streaming music via Bluetooth, we've got you covered.
It's also an easy, reliable way to add Bluetooth streaming to an existing set-up or upgrade the sound quality of any speaker or system that uses standard Bluetooth.
Bluetooth v5.1 compliant

Tech Spec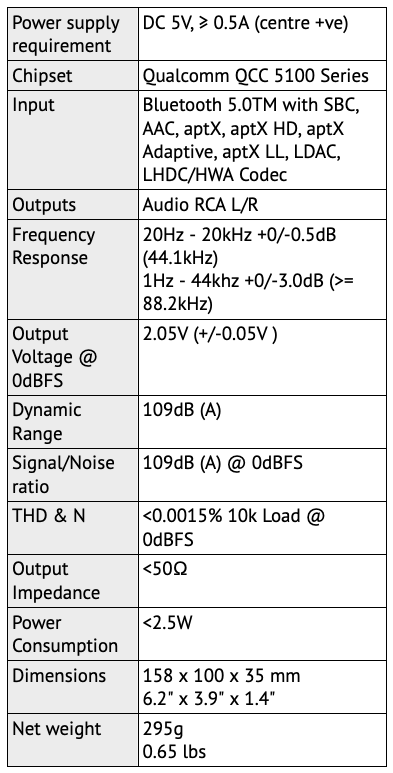 TechX Guarantee
We understand the anxiety of shopping online in Malaysia particularly on startup and small business website; you don't get to physically hold the product before buying, how will you know if the product will live up to your expectations, ... - which is why we are committed to
Only sell/advertise products or brands that we believe in

Thoroughly research a product/model to save you time and get the most value for your money

Go the extra mile to properly package items for shipping

Rely on reputable courier service (*not necessarily the cheapest)

Provide second to none customer service (Lazada/ Shopee gets thousands of visitors a day, we have Only You to focus on)

Safeguarding your privacy & offer a seamless user experience on our ecommerce webpage

Ensure all pages and content on TechX are accessed using SSL encryption (*look for the padlock icon on the left side of the address bar...SSL allows sensitive information such as credit card numbers, login credentials to be transmitted securely)

Your satisfaction! We believe we sourced for the best quality products around, however sometimes life happens. If for any reason you are not 100% satisfied with the quality of any product, we will gladly refund your money + 20% of what your paid
In the event you still need further assurance, write to us via our Contact Form and we'll get back within 2 hours.