Our take
Audirect Beam 2 MQA 3.5mm/ 2.5mm Balanced Hi-Res Portable Headphone Amplifier is a small, versatile and powerful DAC/ Amp featuring ES9118 SABRE HiFi System-On-Chip (SOC). The Beam 2 is the first true BAL + Non-BAL dual earphone ports USB product to offer an integrated MQA renderer hardware, making MQA playback easy and complete.
It might be a little pricey, but the features; Type C input, both single-ended and balanced out, MQA, DSD playbackm compatible across wide range of devices, could potentially justify itself.
"This device is meant for those who prefer a more controlled and precise low-end which borders on the clinical favor of a particularly clear and transparent sound." Credit: NewEve head-fi.org
Product details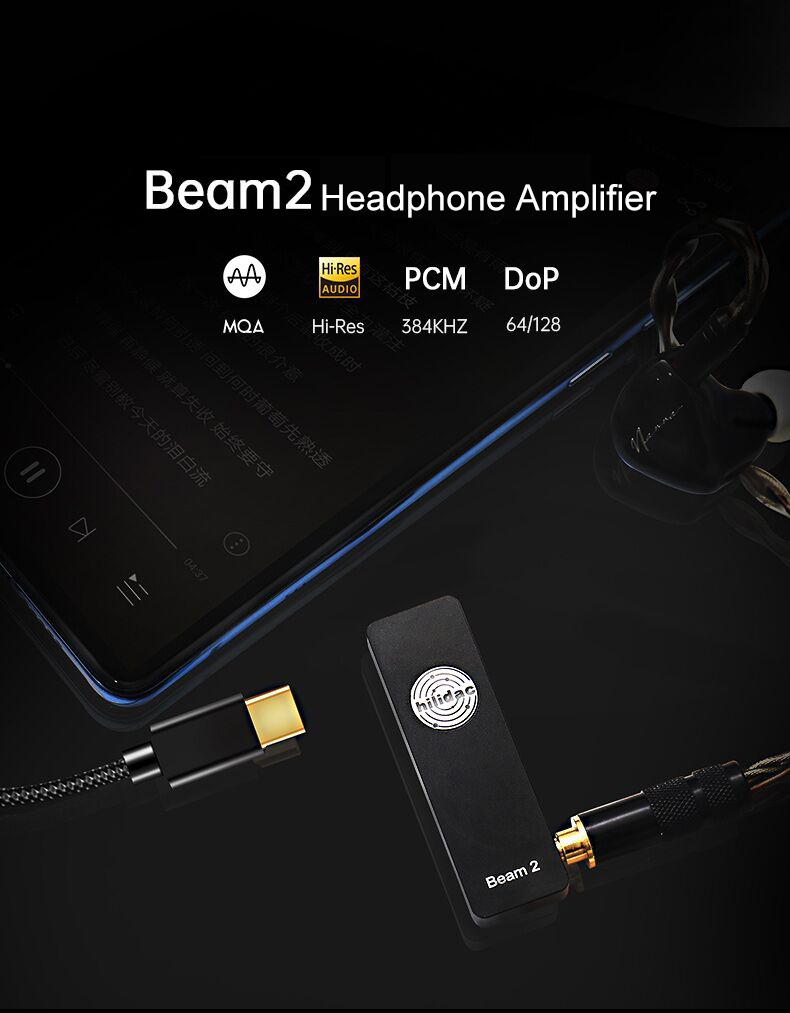 The sequel to hiliDAC's well-received Beam, the Beam 2 is a high-performing DAC/amp that easily fits in your palm. Delivers exceptional sound and amplification that punches way above its weight class, the Beam 2 is equipped with an audiophile-grade ESS9281C Pro DAC and an amplifier capable of outputting 240 mW at 32 ohms.
It also features a 3.5-millimeter single-ended headphone port and 2.5-millimeter fully balanced port. The Beam 2's left and right channels have independent op amps and high-thrust circuit designs, and the light on its body changes color according to the decoded music format: red for SD audio, blue for HD audio, and rose red for MQA audio.
Tech specs
| | |
| --- | --- |
| Single-ended output power | ≥180mW (16Ω) ≥110mW (32Ω) ≥6.6mW (600Ω) |
| Balanced output power | ≥145mW (16Ω) ≥240mW (32Ω) ≥26.6mW (600Ω) |
| Frequency response | 20Hz-40kHz (-0.04dB) |
| THD+N | 0.0003% |
| SNR | ≥ 118dB |
| Maximum supported sampling rate | PCM/ DXD (Up to 32 Bit, 384kHz) |
| DSD spec | Up to DSD128 (DOP) |
| Internat resistance | <1Ω |
| MQA decoding + rendering | Full MQA decoder, supporting full decoding of original MQA files |
| OP amp | Dual OP amp chip |
| Input interface | Type C |
| Output port | 3.5mm/ 2.5mm |
| Dimension | 49 x 15 x 6.8mm |
TechX Guarantee
We understand the anxiety of shopping online in Malaysia particularly on startup and small business website; you don't get to physically hold the product before buying, how will you know if the product will live up to your expectations, ... - which is why we are committed to
Only sell/advertise products or brands that we believe in

Thoroughly research a product/model to save you time and get the most value for your money

Go the extra mile to properly package items for shipping

Rely on reputable courier service (*not necessarily the cheapest)

Provide second to none customer service (Lazada/ Shopee gets thousands of visitors a day, we have Only You to focus on)

Safeguarding your privacy & offer a seamless user experience on our ecommerce webpage

Ensure all pages and content on TechX are accessed using SSL encryption (*look for the padlock icon on the left side of the address bar...SSL allows sensitive information such as credit card numbers, login credentials to be transmitted securely)

Your satisfaction! We believe we sourced for the best quality products around, however sometimes life happens. If for any reason you are not 100% satisfied with the quality of any product, we will gladly refund your money + 20% of what your paid
In the event you still need further assurance, write to us via our Contact Form and we'll get back within 2 hours.