Our Take
The babies of the Spektor range turn out to be sparkling performers.

The Spektor 1 is ideal if you're looking for small, affordable, great-sounding speakers.

+ Energetic and entertaining sound
+ Good detail, expressive dynamics
+ Usefully small size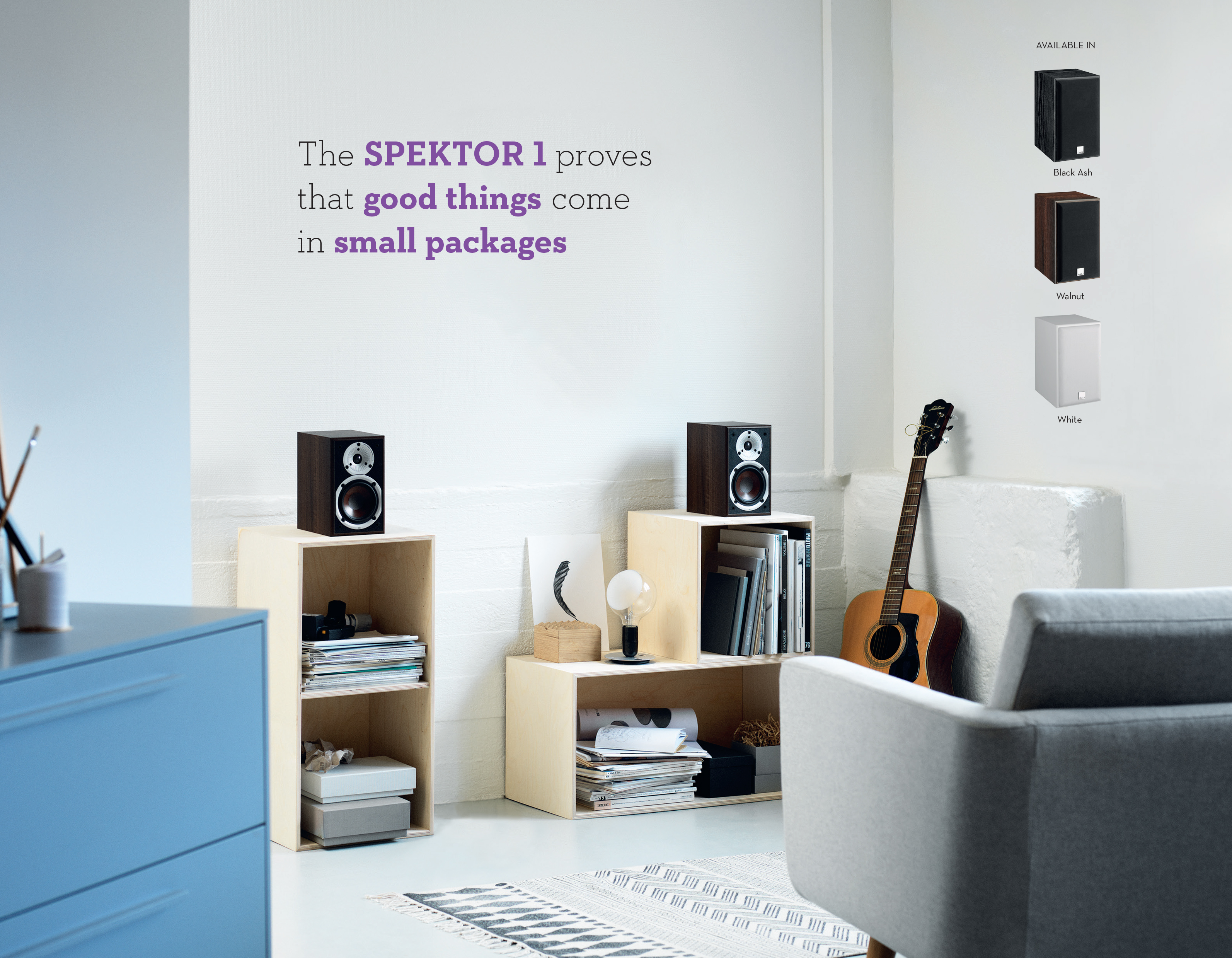 They deliver pretty much all that's good about their bigger brothers, just in a scaled-down form.

We see them as an ideal partner for a micro-system or part of a starter separates set-up - or even either side of a TV.
As is the case with their big brothers, build is good for the money. The boxes are so small that rigidity almost comes as standard, while the finish is neat too.
These speakers are single-wired only, which keeps things simple and clutter-free. That's just fine with us.

That budget price doesn't mean Dali has compromised on the drive units. The 11cm mid/bass driver uses one of the company's distinctive wood-fibre cones, just like those in the brand's high-end products.
Wood-fibre is claimed to offer a good balance between rigidity, low weight and self-damping.
The 21mm dome tweeter is more conventional but, even here, Dali claims to use a lighter dome than most that, combined with the shaped faceplate, better controls dispersion.
This wide dispersion is the reason Dali recommends its speakers fire straight ahead rather than be angled towards the listener. This recommendation always rings true in use.
Sensibly for something so small, these speakers sound right at home close to a rear wall. Their low frequency performance stays balanced and tuneful when used this way.
In an attempt to give these tiny speakers acceptable bass extension, the engineers have ended up with a relatively low sensitivity of just 83dB/W/m.
These speakers are fun, much like their bigger siblings. They charge headlong, delivering the hard-driving beat and rhythmic flourishes with enthusiasm.
These speakers dig up plenty of detail too, and organise them in a musically cohesive way. Subtle instrumental stands aren't ignored, and remain easy to follow even when the production gets dense.
These are small boxes, so really deep bass isn't on the menu. But place them close to a rear wall and there's enough in the way of low-end power and authority to keep us satisfied.
The low frequencies are tuneful and rendered with agility, rather than grumbling on in the manner of most compact rivals.
Rarely have we come across compact budget speakers with such a broad range of talents.

VERDICT
If you're looking for really small budget speakers, buy these. We can't be much clearer than that.
Product Details
The DALI SPEKTOR 1 brings the DALI sound design principles to a new price bracket. With wide dispersion and low-loss audio with amazing clarity, the SPEKTOR 1 lets new music and movie lovers experience the seduction of true Hi-Fi.
Wood Fibre Cones
The low-loss drivers combine low-mass paper cones with wood fibre for an uneven surface that eliminates resonance and reveals every detail.
Soft Dome Tweeter
The ultra lightweight, weaved fabric dome tweeter offers best-in-class resolution with extended frequency response, wide dispersion and low colouration.
Amplifier Friendly
The amplifier-friendly design makes it a perfect fit for almost any stereo amplifier or surround receiver in its price category.
Low Signal Loss
The custom DALI drivers eliminate the need for crossover frequency correction for close-to-zero signal loss.
ULTRA COMPACT SPEAKER
Hi-Fi sound in a small cabinet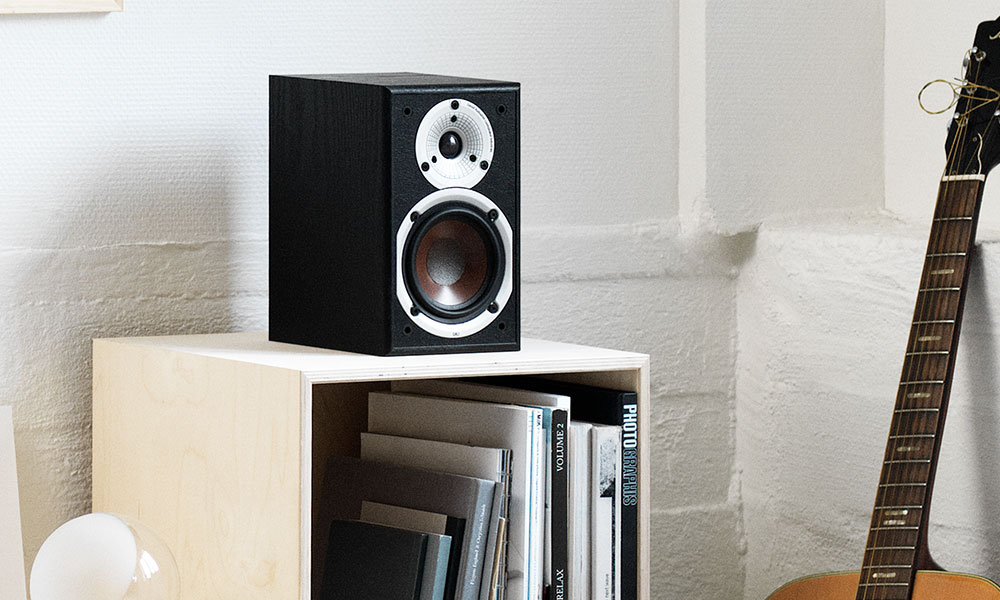 Getting this much Hi-Fi performance from a speaker in this price range took all their experience and know-how, as well as hours and hours in the listening room optimising the driver and crossover designs to create the perfect audio performance. The DALI SPEKTOR 1, like all DALI loudspeakers, has been designed in accordance with their fundamental acoustic and electro-acoustic principles, and a strong belief that clarity and an authentic, honest sound reproduction will get you even closer to the full impact of a live music experience. The ultra compact SPEKTOR 1 is ideal for mounting on a shelf, wall or stand and combines well with any compact Hi-Fi music system.
WIDE DISPERSION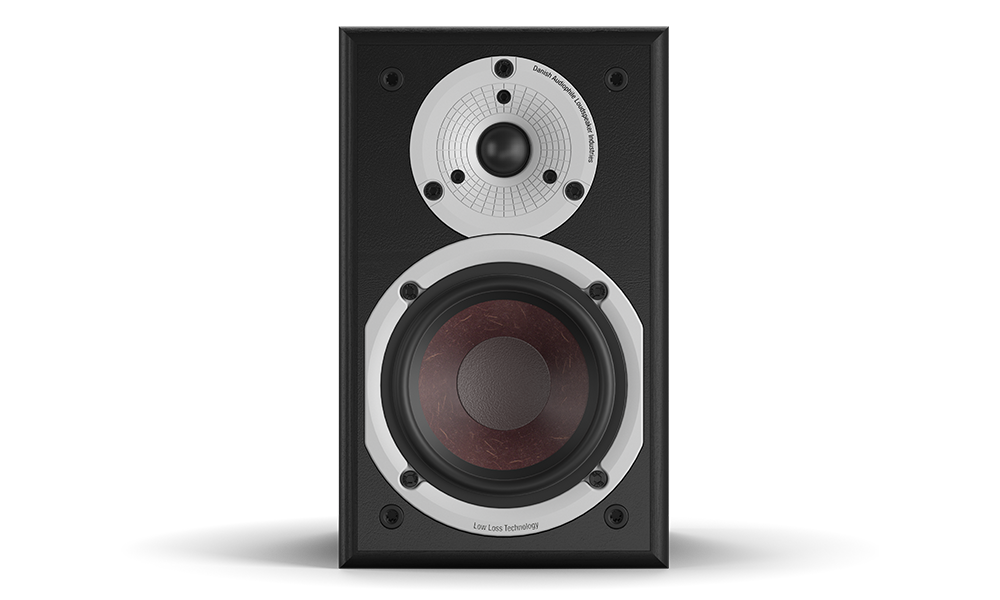 It is easy to integrate the SPEKTOR 1 into any room. The driver materials and geometry used are purpose-designed to achieve a wide dispersion pattern. By dispersing the sound around a room more widely, what you hear has more coherent balance, consistency and quality – even off-axis. Wide dispersion also gives you more flexibility when it comes to positioning the SPEKTOR 1.
TWEETER
Rendering high frequencies with accuracy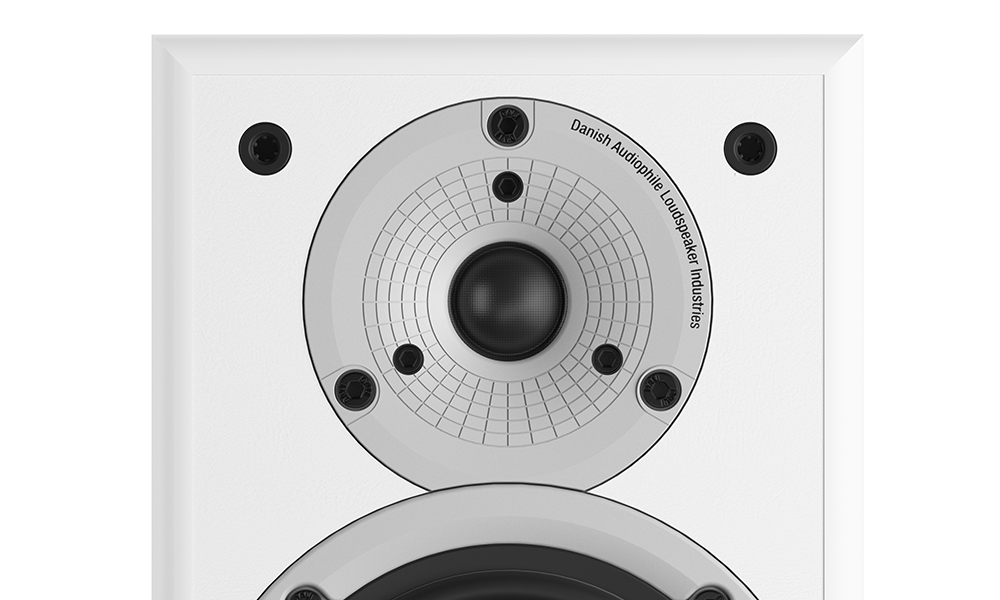 Made from ultra-lightweight woven fabric, the SPEKTOR 1 dome tweeter renders high frequencies with exceptional accuracy. Compared with most other soft dome tweeters, their dome material is less than half the weight (0.056 mg per mm2). The tweeter's impressive ability to reproduce even the lowest parts of the high frequency range without any breakup means that every detail in the midrange frequencies is retained, even during the critical handover between the tweeter and woofer.
WOOFER
Developed specifically for this speaker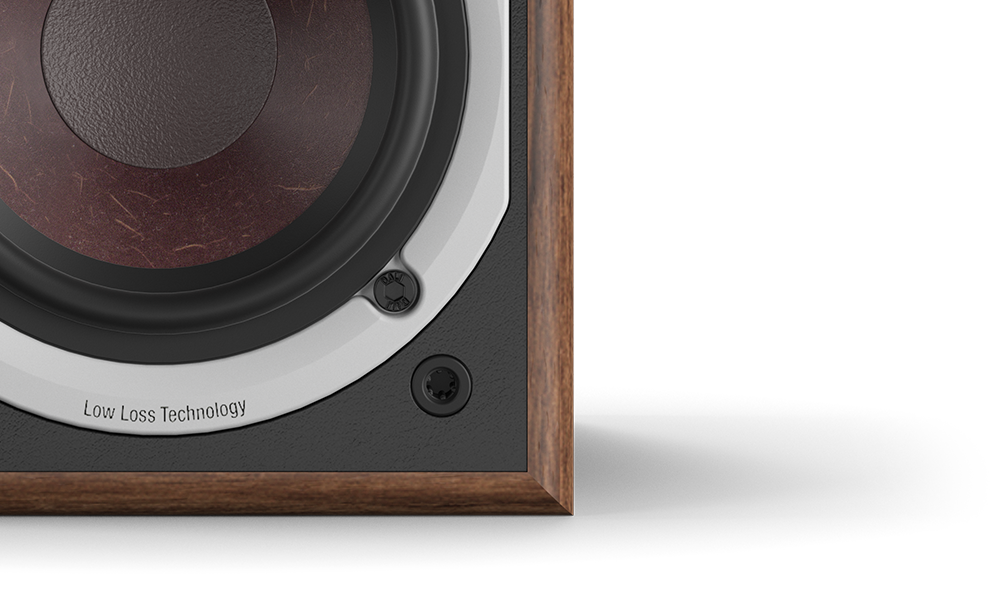 The 4.5" woofer used in the SPEKTOR 1 has been developed specifically for this speaker. Details such as the angle of our signature DALI wood fibre cone and the size of the dust cap have been optimised for the best possible integration, dispersion and performance. Also, the cone membrane is a mix of fine-grain paper and wood fibre pulp, which makes the woofer extremely rigid and lightweight, while the uneven structure helps minimise unwanted surface resonances.
LOW LOSS
Smooth, seamless audio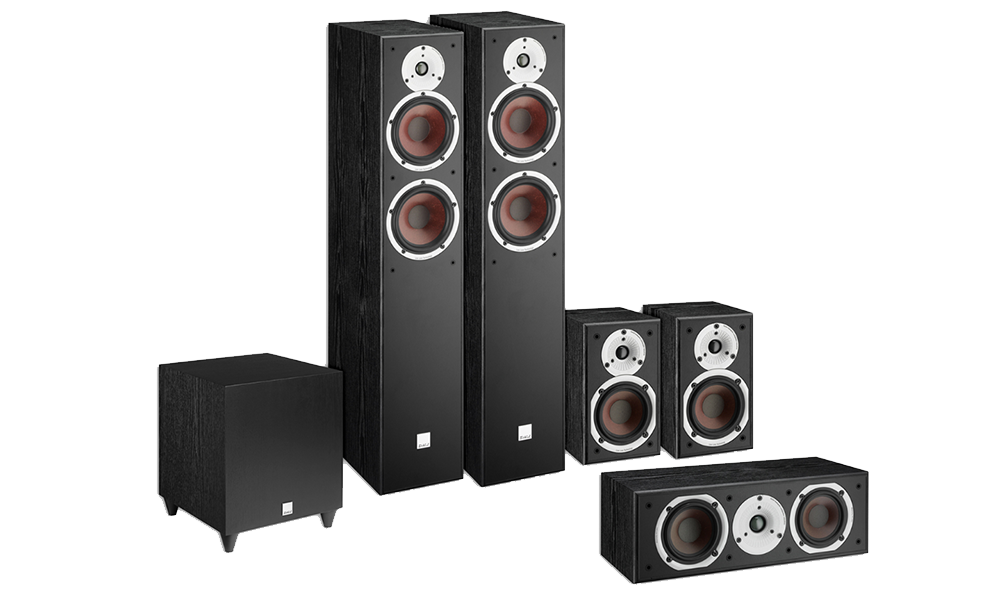 The function of any loudspeaker is to convert the electrical signal from an amplifier into a realistic audio experience for the listener, while minimising losses in the signal. The clarity of sound you'll experience from the SPEKTOR series is the result of their commitment to producing low-loss speakers with smooth and seamless sound reproduction in both the time and frequency domain. By using only DALI designed, custom built drivers and crossovers made from quality components, DALI SPEKTOR speakers achieve a signal loss close to zero.
Tech Specs
| | |
| --- | --- |
| Frequency Range [+/- 3] dB | 59 - 26,000 Hz |
| Sensitivity [2.83V/1m] | 83 dB |
| Nominal Impedance | 6 Ohms |
| Maximum SPL | 103 dB |
| Recommended Amp. Power | 40 - 100 Watts |
| Crossover Frequencies | 2,100 Hz |
| Crossover Principle | 2-Way |
| High Frequency Driver | 1 x 21 mm Soft Dome |
| Low Frequency/Midrange Driver(s) | 1 x 4.5" |
| Enclosure Type | Bass Reflex |
| Bass Reflex Tunning Frequency | 58 Hz |
| Connection Input(s) | Single |
| Recommended Placement | Stand / Shelf / Wall |
| Recommended Distance from Rear Wall to Speaker's Rear Panel | 1-50 cm |
| Dimensions | (H) 237 mm x (W) 140 mm x (D) 195 mm |
| Weight | 2.6 kg |
| Accessories | Rubber Feet, Manual, Wall Bracket |
TechX Guarantee
We understand the anxiety of shopping online in Malaysia particularly on startup and small business website; you don't get to physically hold the product before buying, how will you know if the product will live up to your expectations,... - which is why we are committed to
Only sell/advertise products or brands that we believe in

Thoroughly research a product/model to save you time and get the most value for your money

Go the extra mile to properly package items for shipping

Rely on reputable courier service (*not necessarily the cheapest)

Provide second to none customer service (Lazada/Shopee gets thousands of visitors a day, we have Only You to focus on)

Safeguarding your privacy & offer a seamless user experience on our ecommerce webpage

Ensure all pages and content on TechX are accessed using SSL encryption (*look for the padlock icon on the left side of the address bar...SSL allows sensitive information such as credit card numbers, login credentials to be transmitted securely)

Your satisfaction! We believe we sourced for the best quality products around, however sometimes life happens. If for any reason you are not 100% satisfied with the quality of any product, we will gladly refund your money + 20% of what your paid
In the event you still need further assurance, write to us via our Contact Form and we'll get back within 2 hours.