Our Take
Audioengine S6 Powered Subwoofer

The Audioengine S6 sets a new standard in performance to size. With 210 watts of power in a small package that fits almost anywhere, the S6 is the ultimate bass extension for your desktop, home theater or gaming setup. With a front-firing woofer in a sealed box, The S6 delivers deep, smooth, and punchy bass that defies expectation.
Connection Types : Aux, Analog In & USB DAC
POWERFUL BASS IN AN ULTRA-COMPACT PACKAGE : With 210 watts of power in a package that fits almost anywhere, The Audioengine S6 subwoofer sets a new standard in performance to size. Perfect for your desktop setup or gaming rig, the S6 provides deep, smooth, and punchy bass that defies expectation.
FEATURES : 6-inch front-firing woofer in a sealed enclosure provides powerful bass down to 33Hz. The S6 features an auto-sensing standby mode, dual analog inputs, variable crossover knob, phase switch, USB charging port with W3 wireless expansion compatibility, and weighs in at only 15.4 lbs.
WORKS WITH : All Audioengine powered speakers and compatible WITH AV receivers or preamps. Have powered speakers and need a little more bass? If they have an audio output, connecting is simple.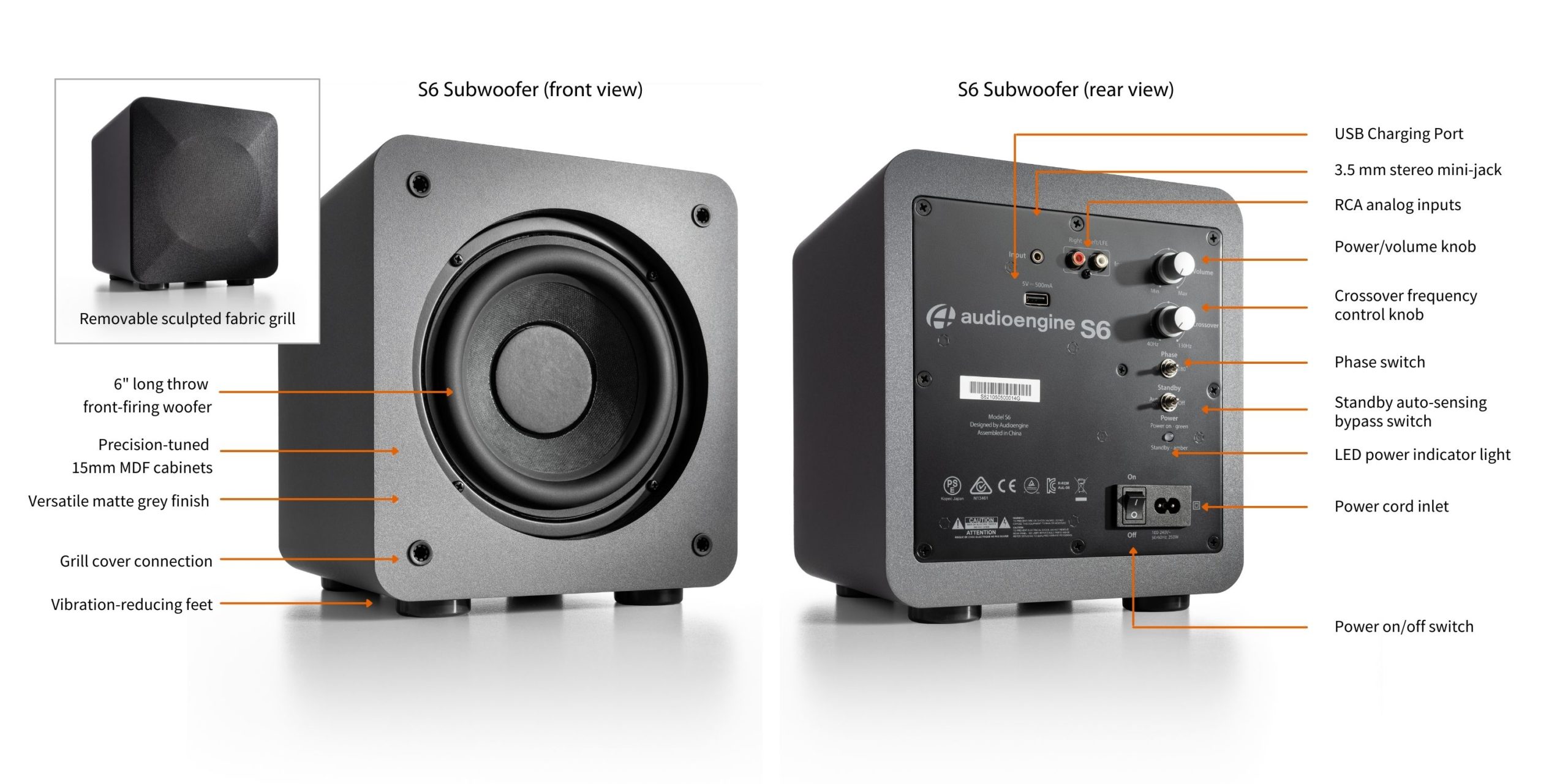 FEATURES & BENEFITS
3.5mm mini-jack and RCA inputs : Convenient and versatile plug-in options that can also connect to two audio sources at once
USB charging port : Wireless ready with the W3 sender/receiver kit or power other USB devices
15mm thick MDF cabinet enclosure : Strong yet light reinforcement for greater woofer performance
6" long throw front-firing woofer : Small but powerful, this woofer design ensures accurate bass while being small enough to fit in many places, including a desktop
Crossover frequency control : Easily adjust the how high the bass will go to perfectly balance the sound with your speakers
Phase switch : 0/180 degrees: Flip the phase as needed based on your listening environment to maximize bass performance
Auto-sensing standby mode : The S6 will automatically go into a low-power mode when no audio is playing, saving energy. A bypass switch turns off this feature
Detachable power cord : Disconnect the power cord for convenient transport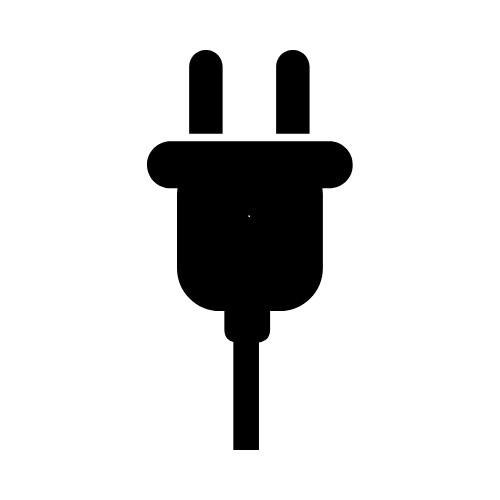 Built-in 210 Watt Power Amp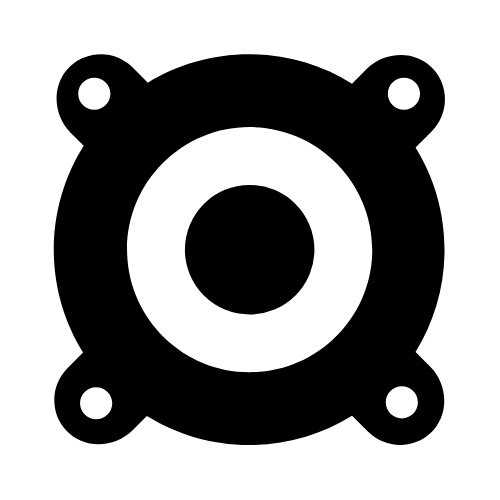 6" Front-Firing Woofer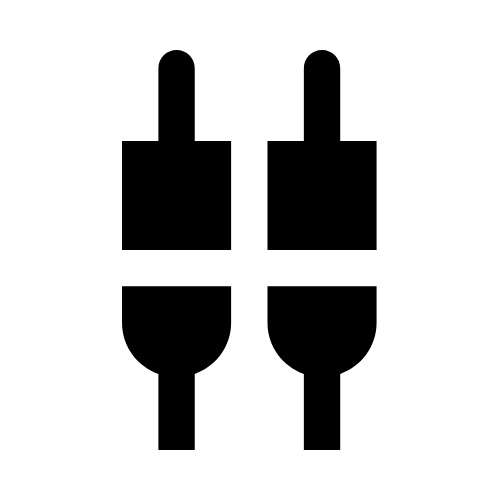 LFE/RCA inputs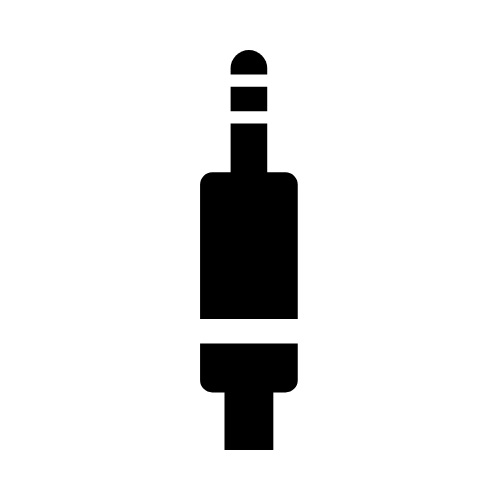 3.5mm mini-jack input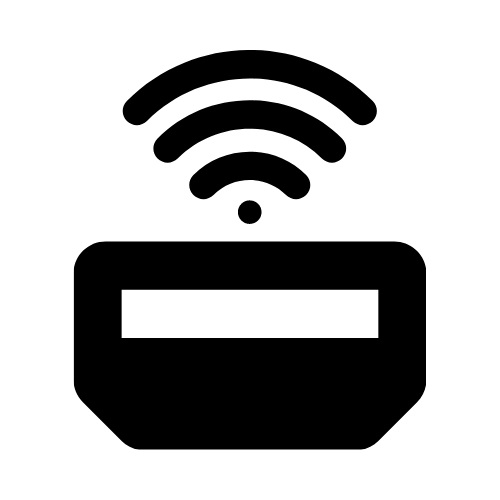 Wireless Ready w/ W3 sender/receiver kit
Product Details
POWERFUL BASS EXTENSION
PERFECT FOR SMALL SPACES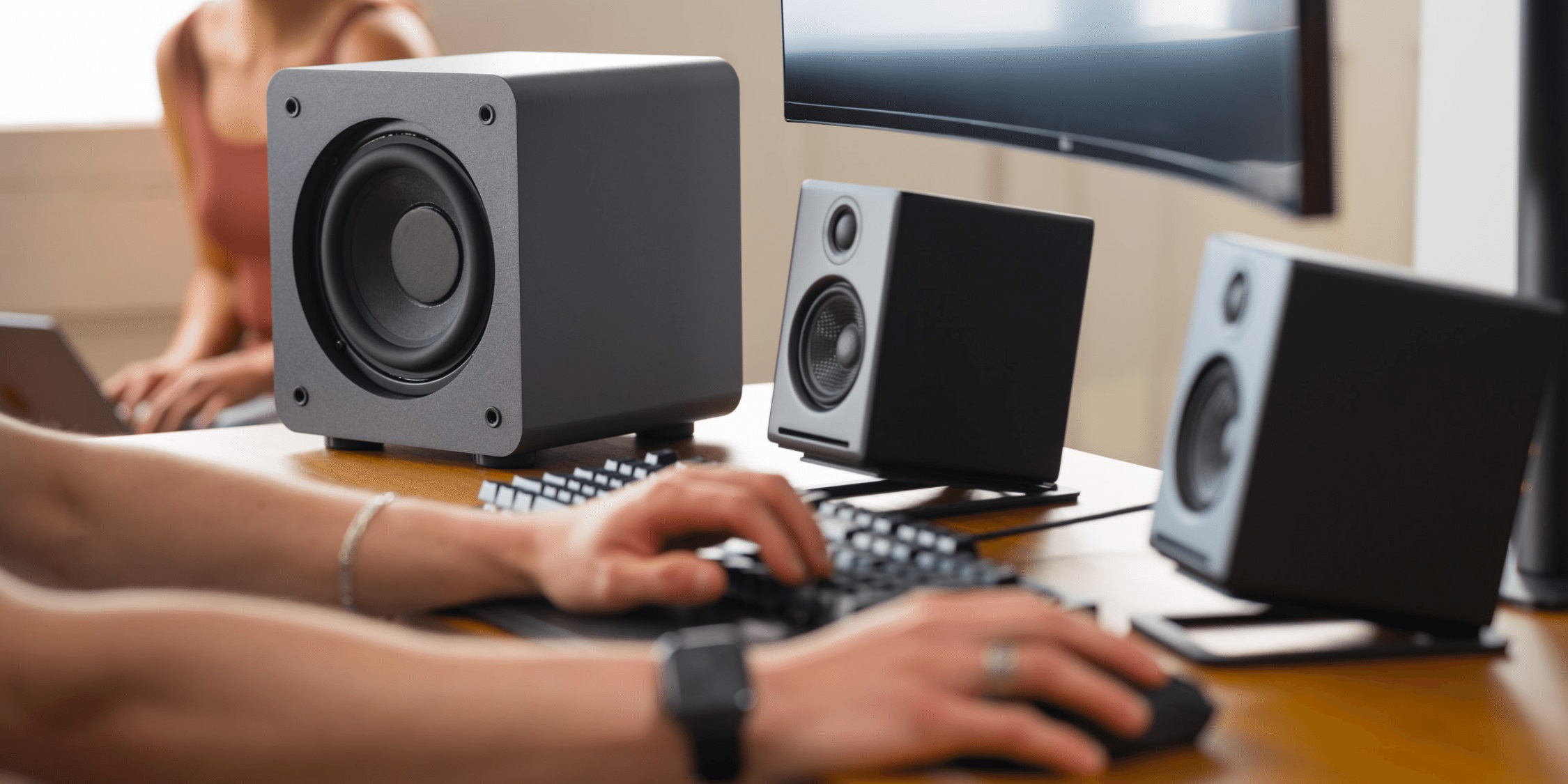 The S6 powered subwoofer sets a new standard for performance in an ultra-compact package. Measuring a modest 10"H x 10"W and weighing only about 15 lbs, the S6 is the perfect compact bass extension for your desktop, gaming rig, home theater or any small setup.
SMALL SUB, BIG SOUND
DON'T LET ITS SIZE FOOL YOU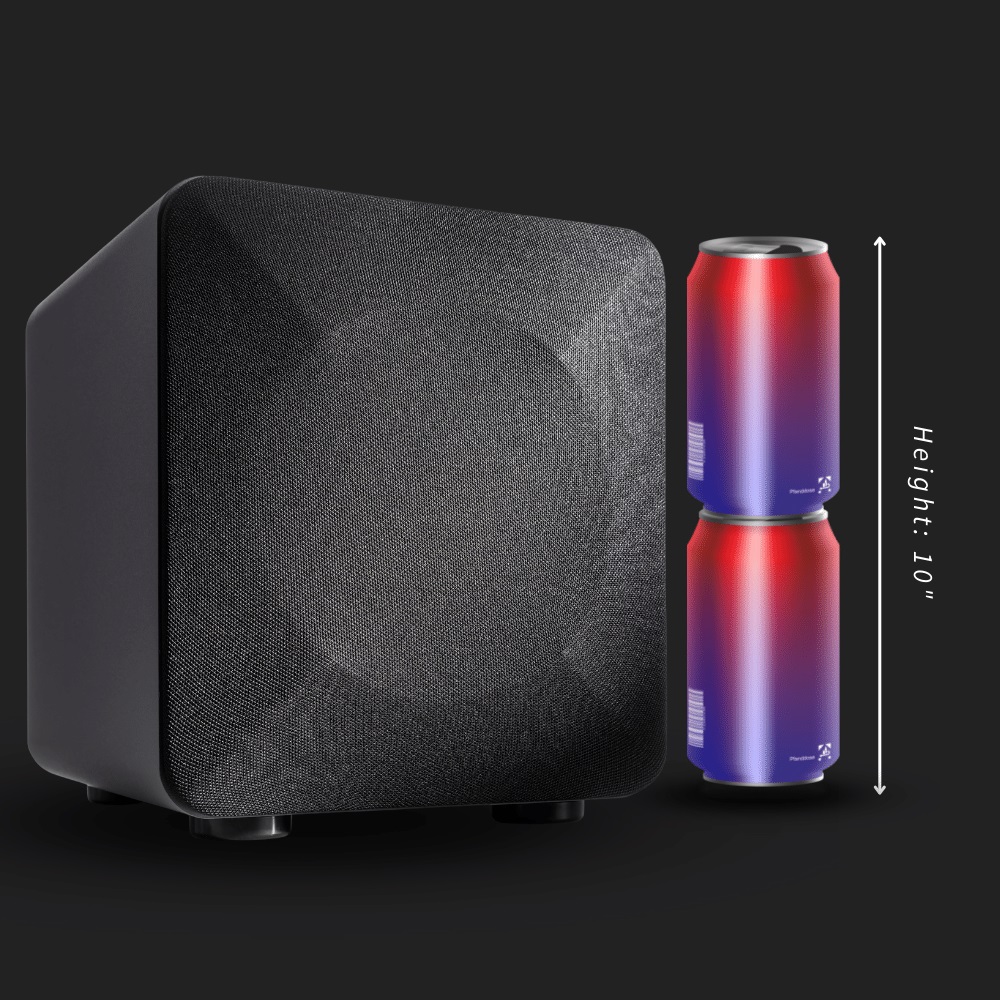 Utilizing a highly efficient Class D amplifier and a 6" long throw woofer, the S6 has to be heard to be believed. And with a frequency response down to 33Hz in a sealed box design, bass is punchy, smooth, and deep. Adjustable crossover points between 40 - 130Hz means you can dial in exactly the sound you want.
With 210 watts of power and the height of two 12oz cans, the S6 can fill most rooms with ease and, for its size, produces powerful sound that outperforms other compact subs in the market.
SEAMLESS LOW-END EXTENSION
FOR YOUR UNIQUE SETUP

The S6 features dual analog audio inputs and can connect to two systems at once. Want to save power? The S6 features a selectable energy saving auto-on mode that can detect when there is signal from your audio source.
Want to go wireless? Audioengine's optional W3 system can be added easily using the USB charging port for convenient placement wherever you need.
IMPRESSIVE SPECS
ULTRA-COMPACT PACKAGE
-Built in 210W (140W RMS) Highly Efficient Class D Amplifier
-6" front-firing woofer in sealed enclosure
-Frequency Response: 33 - 132 Hz +-1.5dB
-Continuously variable 40-130 Hz crossover
-Phase switch (0/180°)
-Line-level stereo/LFE RCA inputs
-3.5mm mini-jack input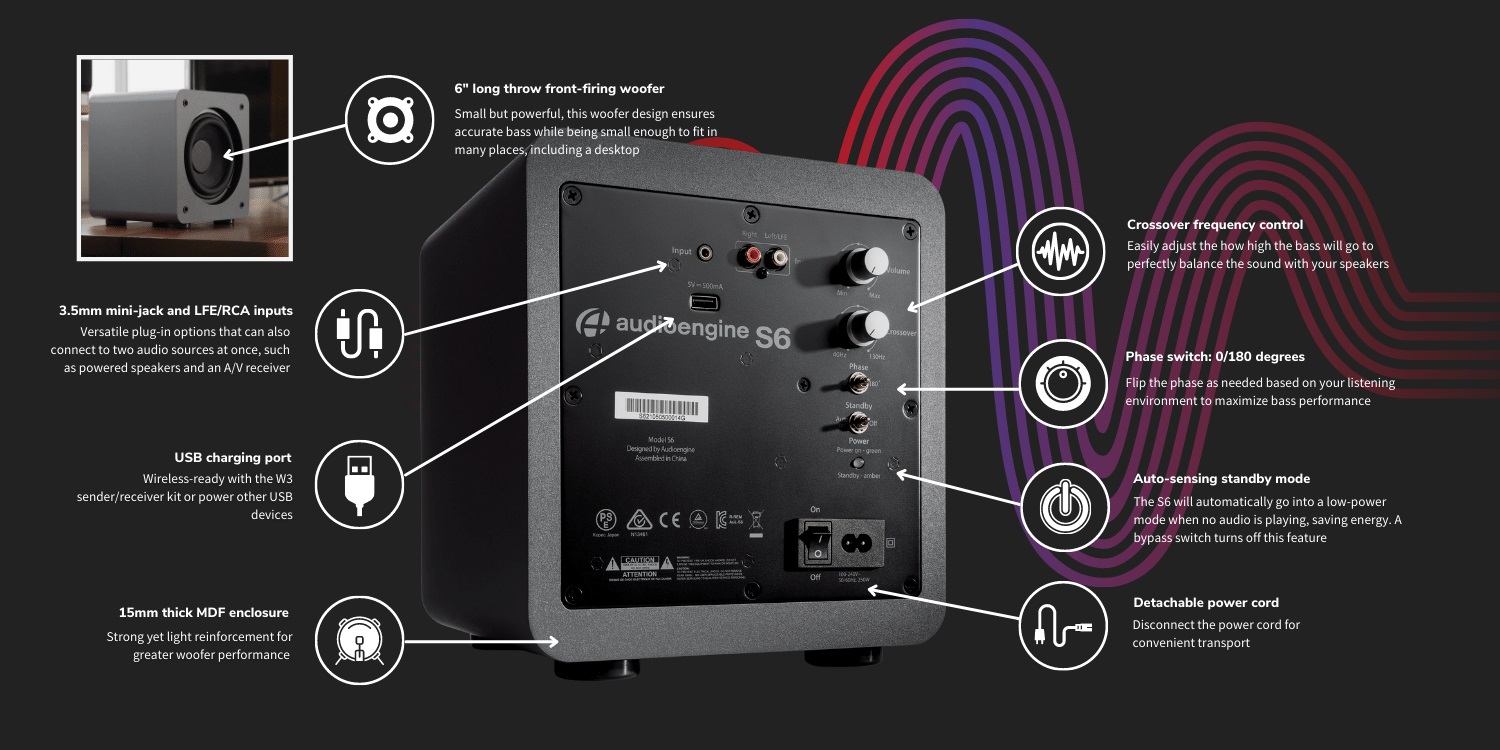 WHAT'S IN THE BOX

S6 Powered Subwoofer
AC power cord, 1.8 meters (~5.9 ft)
Mini-jack audio cable, 2 meters (~6.5 ft)
RCA audio cable, 2 meters (~6.5 ft)
Microfiber subwoofer bag
Microfiber cable bag
Setup guide
Tech Specs
Type

Powered Subwoofer, Sealed Enclosure

Amplifier Type

Class D

Power Output

210 W Peak Power Total (140 W RMS), AES

Drivers

6" Long Throw Front-Firing Woofer

Inputs

3.5 mm Stereo Mini-Jack, RCA L/R

Input Voltages

100-240 V AC, 50/60 Hz Auto-Switching

SNR

>100 dB (Typical A-Weighted)

Frequency Response

33Hz – 132Hz ±1.5dB

Input Impedence

10K Ohms Unbalanced

Crossover Frequency

40Hz – 130Hz

Protection

Output Current Limiting,
Thermal Over-Temperature,
Power On/Off Transient Protection

Standby Consumption

<1W

Phase

0 / 180 Degrees

Dimensions (H x W x D)

10" (25.2 cm) x 8.7" (22.2 cm) x 10" (25.3 cm)

Weight

15.4 lb (6.98 kg)

Total Shipping Weight

18.2 lb (8.26 kg)

Shipping Box Dimensions (L x W x H)

13" (33 cm) x 13" (33 cm) x 14" (35.6 cm)


Operating Temperature




32 Degrees F - 95 Degrees F




Non-Operating Temperature




-4 Degrees F - 113 Degrees F




Relative Humidity




5% - 95% Non-Condensing




Materials & Construction

15mm Thick MDF Cabinet,


6" Custom Front-Firing Woofer


Custom Components

Audioengine designs and manufactures their own tweeters, woofers, and other critical components. In other words, these are not "box built" speakers with off-the-shelf parts but custom-designed to their specifications. What they do not fabricate directly in their factory they have made to their designs (parts such as transformers, magnets, and wiring harnesses, for example). The cabinets, drivers, bass port designs, amplifiers, and crossovers are all painstakingly tuned together for each Audioengine model. This, in turn, makes for a much more efficient system that requires much less power than passive speakers and a separate integrated amplifier or similar A/V components.



TechX Guarantee
We understand the anxiety of shopping online in Malaysia particularly on startup and small business website; you don't get to physically hold the product before buying, how will you know if the product will live up to your expectations,... - which is why we are committed to
Only sell/advertise products or brands that we believe in

Thoroughly research a product/model to save you time and get the most value for your money

Go the extra mile to properly package items for shipping

Rely on reputable courier service (*not necessarily the cheapest)

Provide second to none customer service (Lazada/Shopee gets thousands of visitors a day, we have Only You to focus on)

Safeguarding your privacy & offer a seamless user experience on our ecommerce webpage

Ensure all pages and content on TechX are accessed using SSL encryption (*look for the padlock icon on the left side of the address bar...SSL allows sensitive information such as credit card numbers, login credentials to be transmitted securely)

Your satisfaction! We believe we sourced for the best quality products around, however sometimes life happens. If for any reason you are not 100% satisfied with the quality of any product, we will gladly refund your money + 20% of what your paid
In the event you still need further assurance, write to us via our Contact Form and we'll get back within 2 hours.