Our take
WiFi & Bluetooth 5.0 Preamplifier/Audio Receiver, Wireless multiroom/multizone Home Stereo Music Receiver Circuit Module with Airplay, Spotify Connect and Remote Control for DIY Speakers-Up2stream
Wireless Mini Control Multiroom Stereo Preamplifier
With S10 Preamplifier Integrated, You can stream your audio wirelessly to your speakers by Wifi, Bluetooth 5.0, Airplay, DLNA & UPnP. And no matter where you are in your house, you can always take out your phone to play a song for you or your family. Like a bedtime story for your children, a love song for your wife, easily and wirelessly.
Rookie Recommend - S10 - Your Economical Preamp
No Distance Limitation
Wifi Streaming is more stable than Bluetooth that you can play the music everywhere in your house within your Wifi signal's coverage.
No Compression
Wifi streaming also has an advantage of streaming audio without compression, while Bluetooth streaming will compress the audio quality.
Hi-Res Audio
S10 Preamp supports up to 24bit,192khz decoding which means you can stream with High Resolution audio wirelessly.
Easy To Use
If you are a rookie with wireless audio system, S10 is your best choice to familiarize with the wireless technology economically. Build up your wireless home stereo system in just minutes.
All Music You Like
Huge music resources supported like Spotify, Amazon Music, Tidal, Deezer, Qobuz, Internet Radio, iheart Radio, Napster, etc. Other than online music, you also can play local music by NAS, USB storage where you have collected your favorite song for years.
Wireless Connectivity
Streaming your audio all the way by Wifi, Bluetooth 5.0, DLNA, UPnP, Airplay, Spotify Connect.
Streaming your Music Everywhere
No matter where you are in your house, you can always take out your phone to play a song for you or your family. Like a bedtime story for your children, a love song for your wife, easily and wirelessly.
Easily Control Via Web
Control each unit directly via web browser. Simply enter device IP.
1. Music Playback
2. Switch Audio Source
3. Play Radio URL
4. Play Preset Content
5. Web Management (Firmware Update, WiFi Connection, Factory Reset)
Product details
Easily Stream Your Audio Wirelessly
The S10 is a great wireless audio streamer for new wireless audio players to get started on budget.
The S10 allows you to stream audio to your home audio system wirelessly via WiFi, Airplay, Bluetooth 5.0 and Spotify Connect.
You can also add more Arylic devices to build a multiroom system, manage and control all your audio devices in one app (4STREAM)!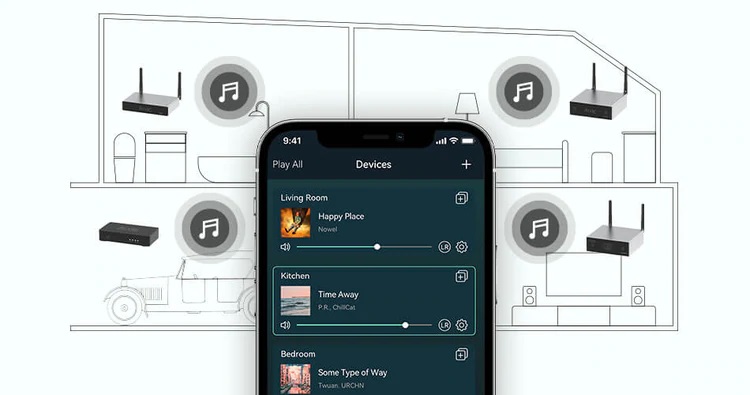 Multiroom Audio System
Mix and match any combination of Arylic products to create a custom multiroom system and play the same music throughout your home, send different sources to each room at the same time, or create your own custom-defined multiroom zones... All are controlled via our 4stream App.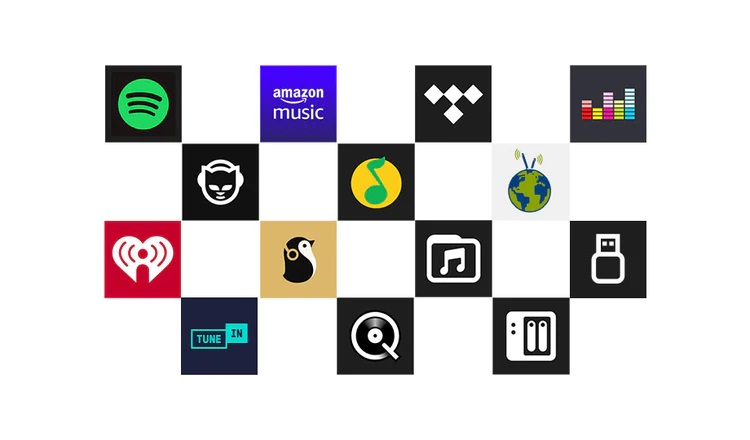 Brilliant Sound Streamed Directly From Your Favorite Providers
Spotify, Amazon Music, Tidal, Qobuz, Deezer, Napster, TuneIn, Internet Radio, iHeart Radio, QQ Music, QQ FM.
The S10 connects directly to your online streaming providers to play high quality audio, avoiding Bluetooth bottlenecks and compression.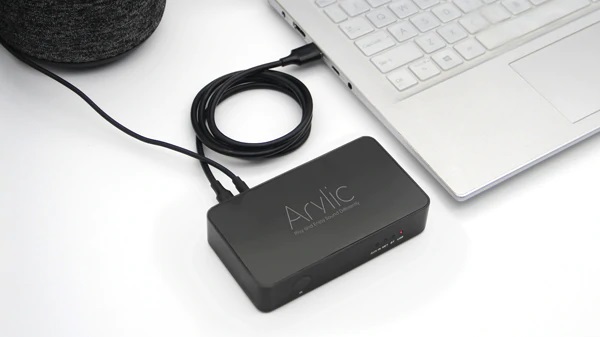 Tune Like An Expert
Fine tune your listening experience with our exclusive ACPWorkbench tuning tool (Windows only). Find the perfect sound for each channel with EQ, Bass Enhancement, Advanced DSP effects, Gain, Pregain and more.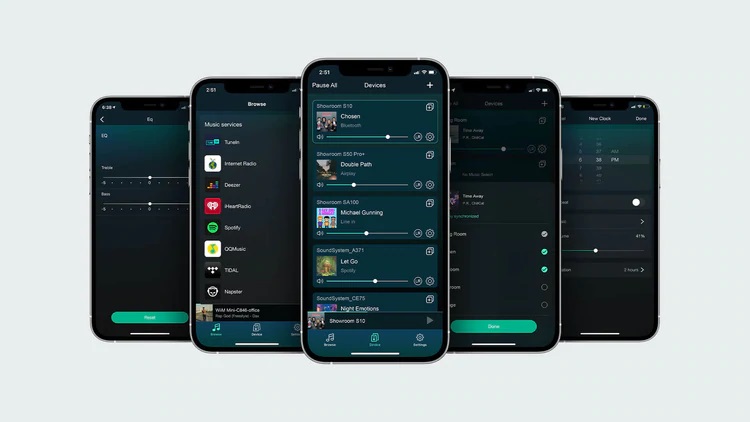 Powerful 4stream App
Choose your music source and control playback, set EQ, control multiroom/independent playback, manage playlists, control alarm clock, WiFi settings, update firmware and more... All the useful features you need in our free 4STREAM App for iOS & Android.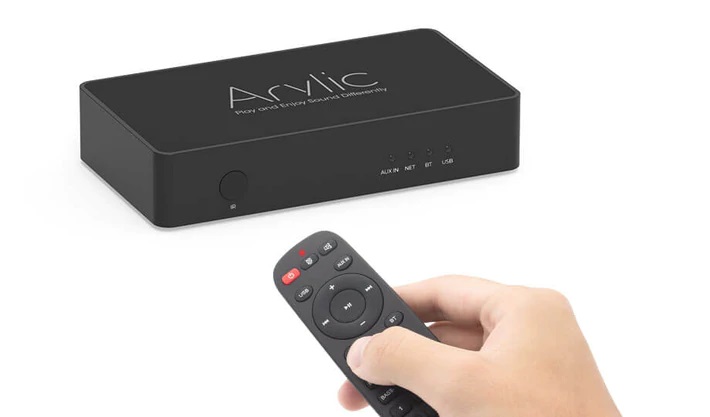 Remote Control
The included remote can control all your Arylic models within a ~15 meter/50 foot range.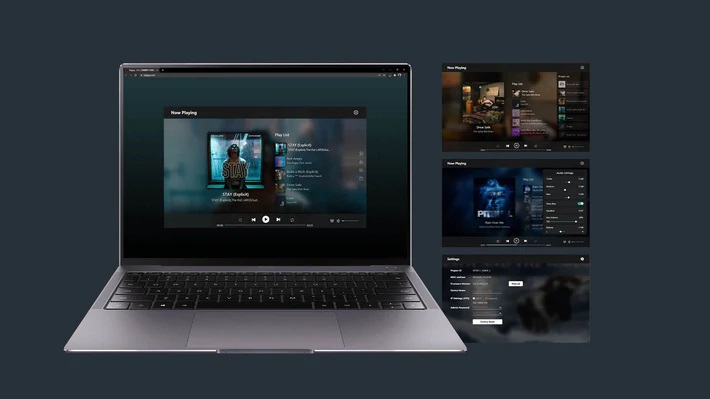 Web & PC Control
Control your devices via browser from any PC, tablet, or other devices, no app required. Or stream music using any software that supports Airplay, Spotify Connect, UPNP or DLNA protocols, including iTunes, Spotify, Musicbee and more.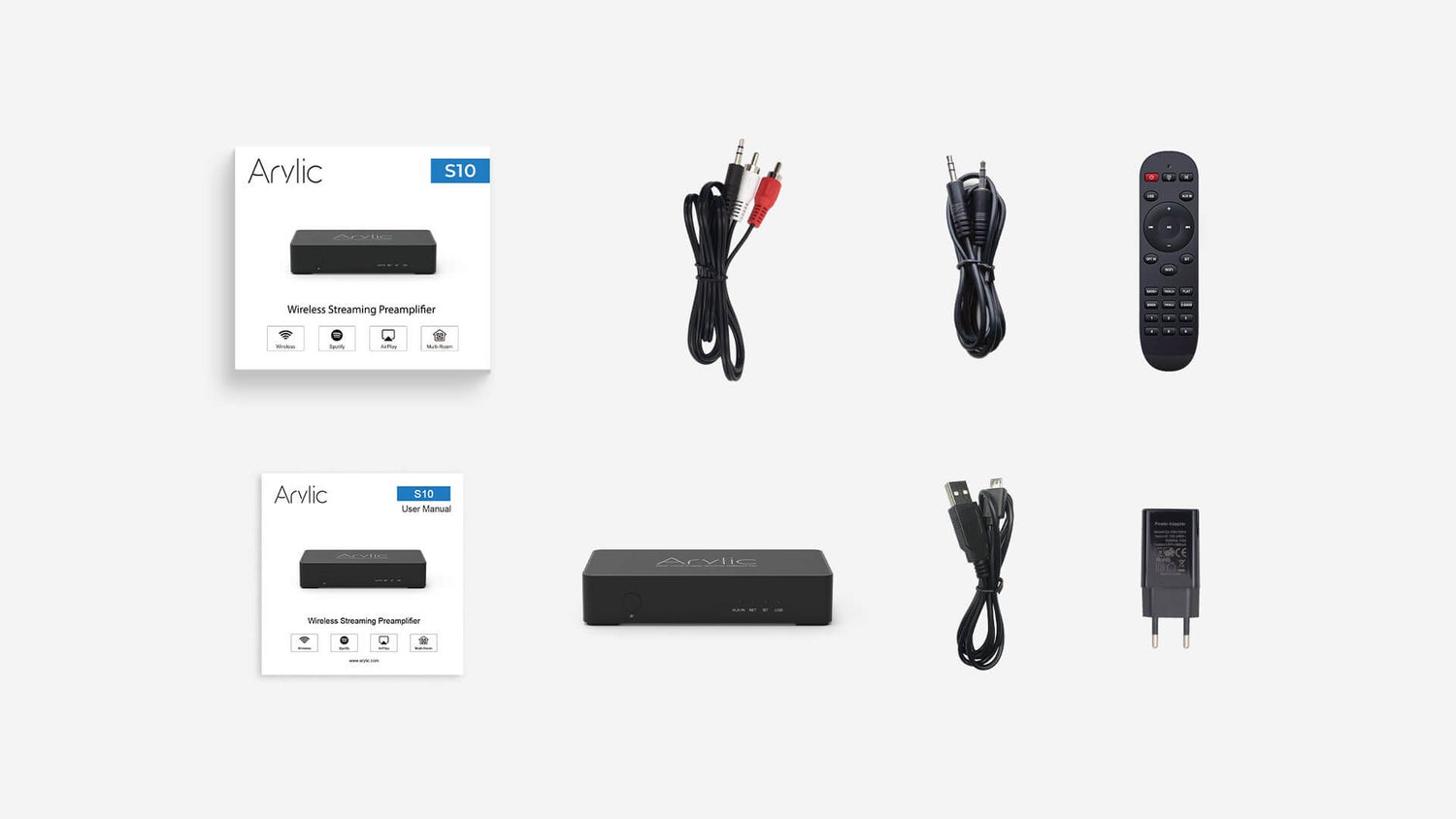 Package Includes
Arylic S10 Wireless Multiroom Music Streamer, User Manual, Remote, 5V1A Micro USB Power Adapter, Aux 3.5mm cable, 2-1 RCA Cable.
Tech specs
Wireless network

EEE802.11b/g/n 2.4G

Ethernet

RJ45 single 10/100M

Bluetooth

5.0

USB Host

2.0

Bluetooth Distance

30M

Power Input

5V-1A micro USB input

Audio Output

Analog 3.5mm mini jack

Frequency response

20Hz to 20kHz

Audio Input

Analog 3.5mm mini jack

SNR

91dB

THD

0.03%

Music Format

FLAC/MP3/AAC/AAC+/ALAC/APE/WAV

Sample Rate

Decoding Up to 24bit/192kHz

Protocols

AirPlay, DLNA, UPnP, Spotify Connect, Qplay

LED

NET: White-power on/WiFi Mode
BT: Blue-Bluetooth Mode
USB: Red-USB Mode
Aux: Green-line input Mode

Dimensions

116.2mm x 64mm x 22.6mm

Weight

0.24kg

TechX Guarantee
We understand the anxiety of shopping online in Malaysia particularly on startup and small business website; you don't get to physically hold the product before buying, how will you know if the product will live up to your expectations,... - which is why we are committed to
Only sell/advertise products or brands that we believe in

Thoroughly research a product/model to save you time and get the most value for your money

Go the extra mile to properly package items for shipping

Rely on reputable courier service (*not necessarily the cheapest)

Provide second to none customer service (Lazada/Shopee gets thousands of visitors a day, we have Only You to focus on)

Safeguarding your privacy & offer a seamless user experience on our ecommerce webpage

Ensure all pages and content on TechX are accessed using SSL encryption (*look for the padlock icon on the left side of the address bar...SSL allows sensitive information such as credit card numbers, login credentials to be transmitted securely)

Your satisfaction! We believe we sourced for the best quality products around, however sometimes life happens. If for any reason you are not 100% satisfied with the quality of any product, we will gladly refund your money + 20% of what your paid
In the event you still need further assurance, write to us via our Contact Form and we'll get back within 2 hours.