Our take
WiFi & Bluetooth 5.0 Mini Stereo Amplifier, 2 Channel Class D Wireless Amplifier, Home Amplifier for Speakers with Spotify, Airplay, Multiroom/Multizone Digital Audio Speaker Amp.
Turn Your Home Audio Into A Wireless System
A30+ is a digital integrated stereo wireless Amplifier for speakers. You can stream your audio wirelessly to your speakers by Wifi, Bluetooth, Airplay, DLNA & UPnP. It is the simplest way to enjoy music wirelessly.
Small But Meet Your Needs
The compact design of A30+ won't take up too much space in your home. Even with the mini size, the A30+ can meet your daily usage, like play in your bedroom, bathroom and workshop. It is designed to output 35W x2 to your stereo speakers.
Stream Your Favorite Tune
No matter if you like pop, jazz or electronic music with heavy bass, A30+ amplifier supports our DSP tuning tool ACPWorkbench (Windows only) which allows you to setup different EQ for left and right channel and other audio effect features.
Friendly User Experience
Simple setup with BLE WiFi configuration that only takes minutes for first time network connection. Able to control by App or remote, even wireless audio rookie can set it up without a problem.
Compatible With Your Home Stereos
A30+ amplifier is capable of connecting to commonly used stereos in your house. Like ceiling speakers, bookshelf speakers, in-wall speakers and on-wall speakers.
Wireless Multiroom Control
Just by sliding, you can easily control your whole house stereos with our 4stream App. Control all your units to sync the same audio or play different audio sources at the same time.
All Music You Like
Huge music resources supported like Spotify, Pandora, Amazon Music, Tidal, Deezer, Qobuz, Internet Radio, iheart Radio, Napster etc. Other than online music, you also can play local music by NAS, USB storage where you have collected your favorite song for years.
Wireless Connectivity
Streaming your audio all the way by Wifi, Bluetooth 5.0, DLNA, UPnP, Airplay 1, Spotify Connect.
Streaming Your Music Everywhere
No matter where you are in your house, you can always take out your phone to play a song for you or your family. Like a bedtime story for your children or a love song for your wife, easily and wirelessly.
Easily Control Via Web
Control each unit directly via web browser. Simply enter device IP.
1. Music Playback
2. Switch Audio Source
3. Play Radio URL
4. Play Preset Content
5. Web Management (Firmware Update, WiFi Connection, Factory Reset)
Product details
Add Wireless Streaming To Your Audio Gear
The A30+ is one of the most cost effective and compact wireless streaming amplifiers, allowing you to stream high quality stereo audio to your passive speakers via your choice of WiFi or Ethernet.
Stream directly from Online Streaming Services, or via Airplay, Bluetooth5.0 and SpotifyConnect. 35W x2 power output is perfect for your desktop, den, or dorm.
Add additional Arylic devices to build a multiroom system, and manage and control all your Arylic devices in one app (4STREAM)!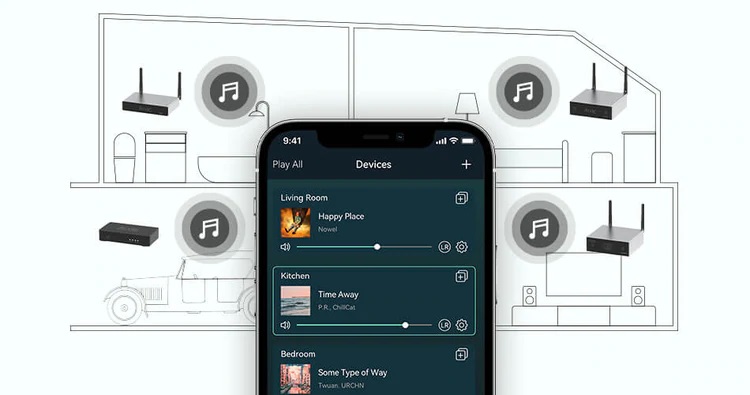 Multiroom Audio System
Mix and match any combination of Arylic products to create a custom multiroom system and play the same music throughout your home, send different sources to each room at the same time, or create your own custom-defined multiroom zones... All are controlled via our 4stream App.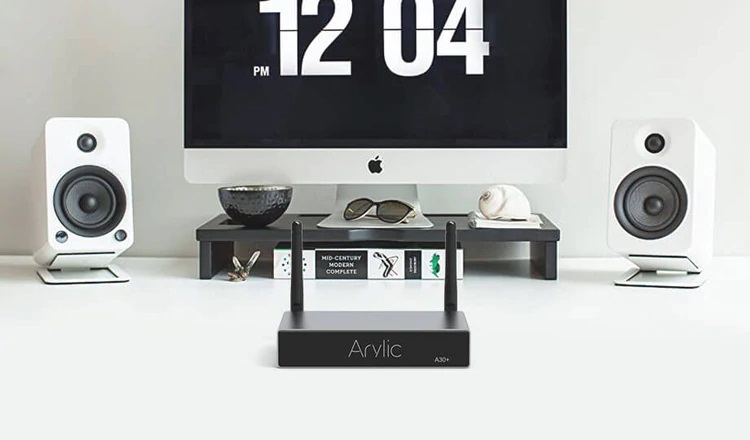 Compact Stereo Amplifier
The compact and slim size is the perfect fit for building a wireless audio system for your desktop, den, or dorm. The 35W x 2 power output will fill your room with music.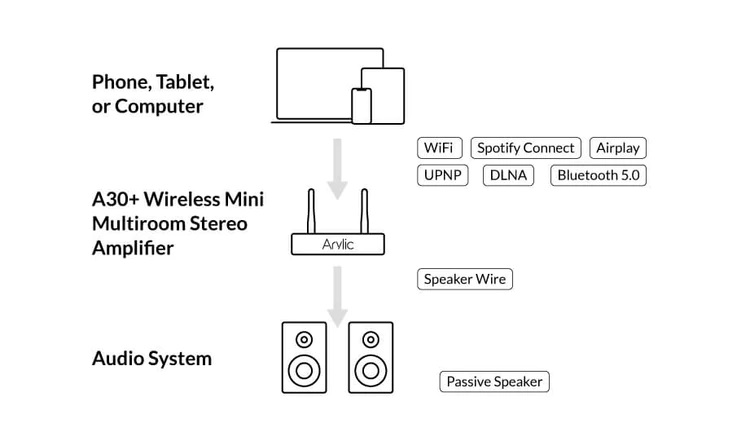 Simple Setup, Easy To Use
No complicated wiring, no difficult setup steps. Convenient control via our 4STREAM APP including quick WiFi pairing during setup, creates a better listening experience.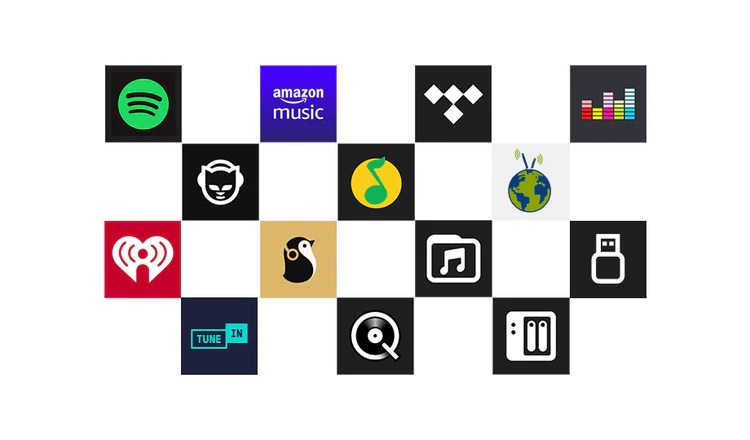 Brilliant Sound Streamed Directly From Your Favorite Providers
Spotify, Amazon Music, Tidal, Qobuz, Deezer, Napster, TuneIn, Internet Radio, iHeart Radio, QQ Music, QQ FM.
The A30+ connects directly to your online streaming providers to play high quality audio, avoiding Bluetooth bottlenecks and compression.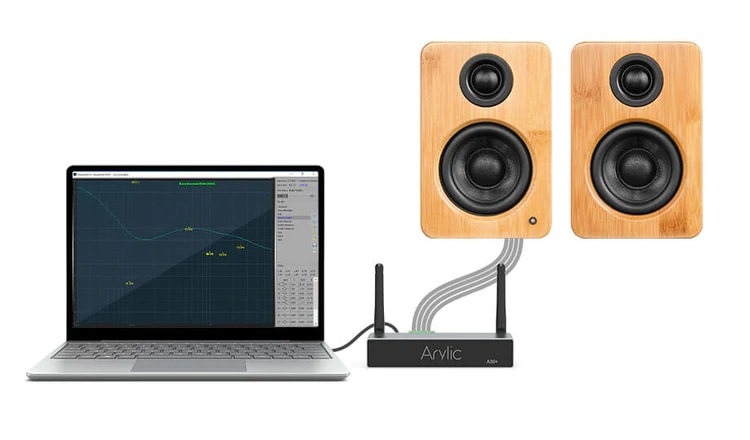 Tune Like An Expert
Fine tune your listening experience with our exclusive ACPWorkbench tuning tool (Windows only). Find the perfect sound for each channel with EQ, Bass Enhancement, Advanced DSP effects, Gain, Pregain and more.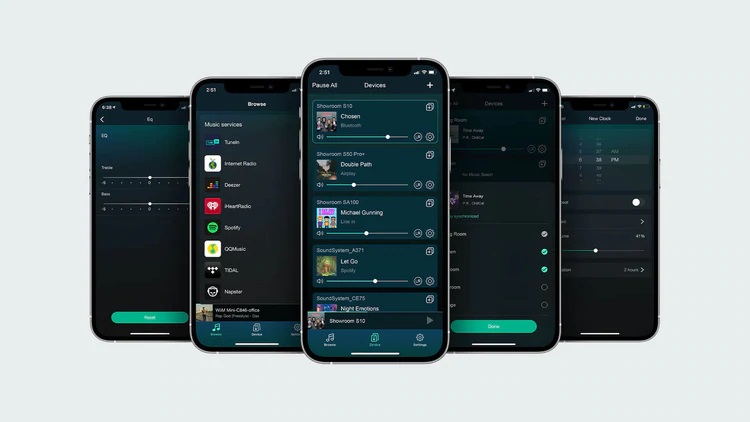 Powerful 4stream App
Choose your music source and control playback, set EQ, control multiroom/independent playback, manage playlists, control alarm clock, WiFi settings, update firmware and more... All the useful features you need in our free 4STREAM App for iOS & Android.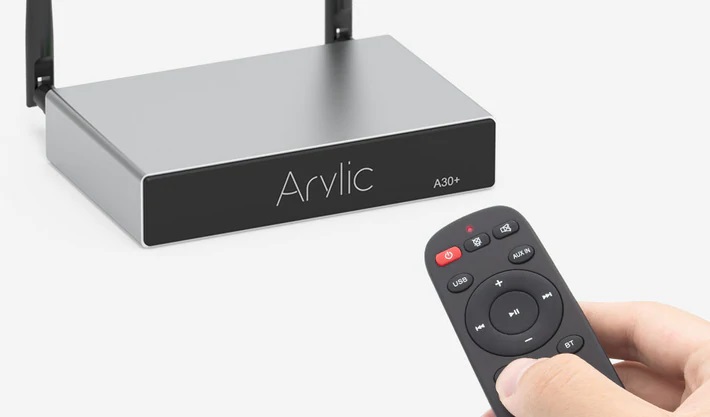 Remote Control
The included remote can control all your Arylic models within a ~15 meter/50 foot range.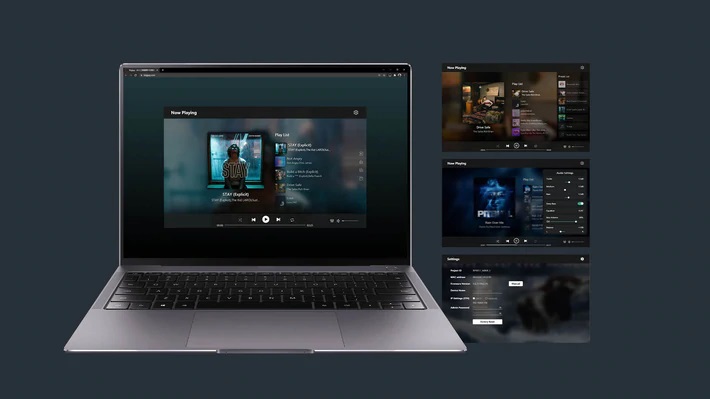 Web & PC Control
Control your devices via browser from any PC, tablet, or other device, no app required. Or stream music using any software that supports Airplay, Spotify Connect, UPNP or DLNA protocols, including iTunes, Spotify, Musicbee and more.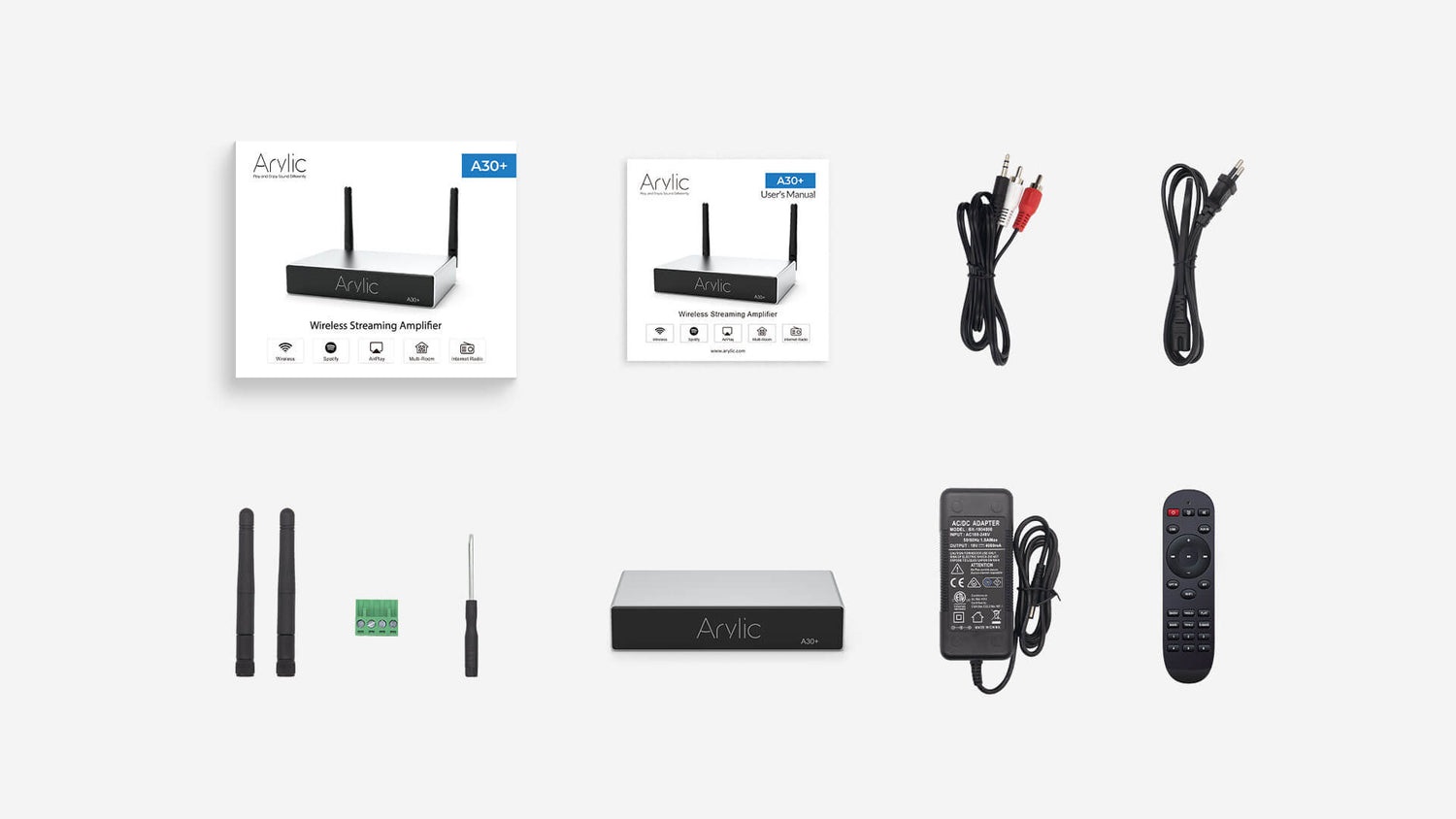 Package Includes
Arylic A30+ Wireless Mini Multiroom Stereo Amplifier, User Manual, Remote, 18V 4A DC Power Adapter, External Antennas (Bluetooth & WiFi), 2-1 RCA Cable, Screw Driver, 4 Pin Phoenix Connector (for speakers).
Tech specs
| | |
| --- | --- |
| Wireless network | IEEE802.11 b/g/n 2.4G |
| Ethernet | Single 10/100M RJ45 |
| Bluetooth | 5.0 |
| USB Host | Play USB music |
| Micro USB | Connect PC as external DAC |
| Power Input | 18V/4A |
| Audio Input | 3.5mm Line in |
| Frequency response | 20Hz to 20kHz |
| Speaker Power | 2x35W@4Ω load at 18V, 2x18W@8Ω load at 18V |
| THD+N | 0.03% @1kHz |
| Speaker Impedance | 4-8ohms |
| Music format | FLAC/MP3/AAC/AAC+/ALAC/APE/WAV |
| Decoding | Up to 24bit/192kHz |
| Protocols | AirPlay, DLNA, UPnP, Spotify Connect, Qplay |
| Dimensions | 131.8mm x 85.5mm x 27mm |
| Weight | 0.35kg |
TechX Guarantee
We understand the anxiety of shopping online in Malaysia particularly on startup and small business website; you don't get to physically hold the product before buying, how will you know if the product will live up to your expectations,... - which is why we are committed to
Only sell/advertise products or brands that we believe in

Thoroughly research a product/model to save you time and get the most value for your money

Go the extra mile to properly package items for shipping

Rely on reputable courier service (*not necessarily the cheapest)

Provide second to none customer service (Lazada/Shopee gets thousands of visitors a day, we have Only You to focus on)

Safeguarding your privacy & offer a seamless user experience on our ecommerce webpage

Ensure all pages and content on TechX are accessed using SSL encryption (*look for the padlock icon on the left side of the address bar...SSL allows sensitive information such as credit card numbers, login credentials to be transmitted securely)

Your satisfaction! We believe we sourced for the best quality products around, however sometimes life happens. If for any reason you are not 100% satisfied with the quality of any product, we will gladly refund your money + 20% of what your paid
In the event you still need further assurance, write to us via our Contact Form and we'll get back within 2 hours.