Our take
Aiyima T10 JAN5654 Tube Vacuum Preamplifier Audio Decoder Bluetooth 5.0 HiFi Headphone Amp with PC-USB aptX Coaxial Optical Input & OLED Display for Home Audio Amplifier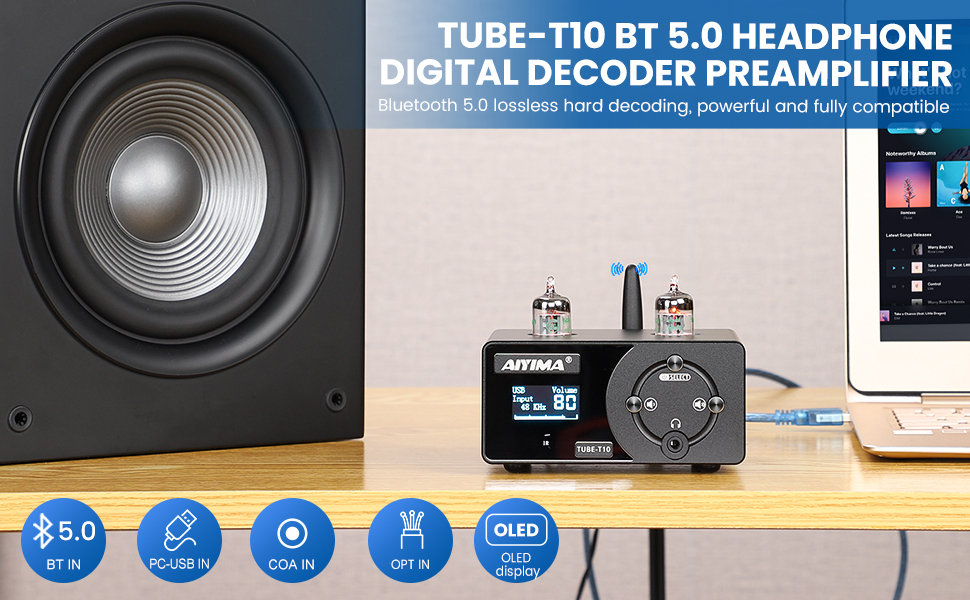 Multiple audio input methods, it supports Bluetooth 5.0 / PC-USB / Coaxial / Optical / RCA inputs from various devices like iPod, Phone, MP3, TV, DVD players, laptop, desktop computer or other streaming media players etc., it's a nice tube vacuum headphone amplifier exclusively designed for the customers who pursue HiFi sound!

Adopts the ES9018K2M decoder, it's widely recognized in the high-fidelity audio industry, providing extraordinary music quality and lower total harmonic distortion (THD) levels, and are the gold standard of audio performance.

3.5mm Headphone Amplifier supports 16-300Ω headphone, you can use it as a Hi-Fi amplifier with the volume control.

Bluetooth 5.0 version supports IIS, SPDIF, HFP, TWS, aptX, aptX HD, etc. audio decoding, the perfect combination of your home audio system, very suitable for audiophiles who have various audio devices.

Unique design, with OLED display, generous, simple and beautiful. strong structure, JAN5654 tubes can provide the clear warm sound, everything works superbly together, our T10 is a good Tube Preamp for your Power Amplifier, also as a small amplifier for your headphones.
Product details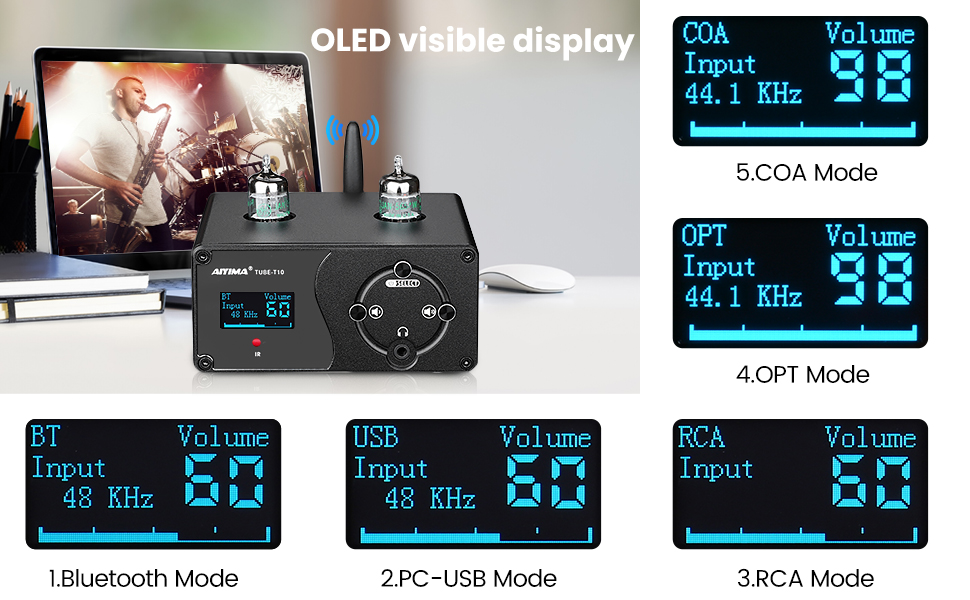 The visual OLED digital display is more intuitive and clear, and the operation is more simple and convenient.
Note : Please download the driver before operating T10 Tube Preamplifier if your system is Windows 7, Windows 8 or Windows XP.
https://www.mediafire.com/file/xffmyytamgcbbb5/B2D2326.rar/file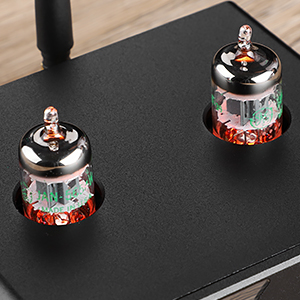 JAN5654 Tubes
Replaceable and upgradeable tubes : 6Ж1п, 6AK5, 6K4, EF95, etc.
Due to the different distribution of the main board accessories under the power amplifier, there will be differences in the heat of the left and right tubes. This is a normal a phenomenon.
Small Tip : Before you install the vacuum tubes into the socket on top of the unit, check to make sure that the legs of the tubes are straight, and fully insert all the way in.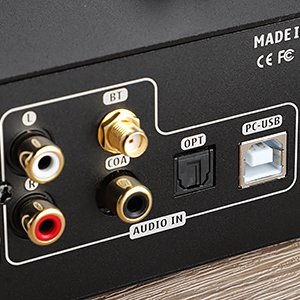 Multi-Inputs
This mini tube Preamplifier has multiple inputs : Bluetooth, PC-USB, RCA, Optical, Coaxial, etc.
With the remote control, you can select different input ways.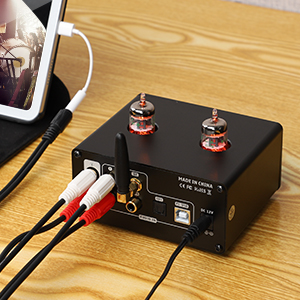 Drive Active Speakers
The output can be connected to active speakers; also can connect power amplifiers and passive speakers (see main picture).
The 3.5mm interface is connected to the headphone output.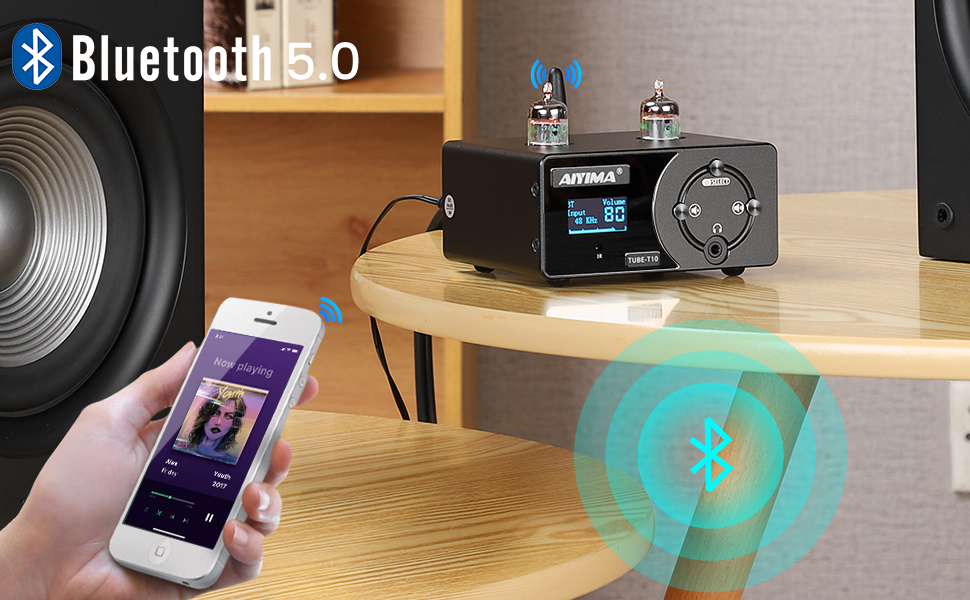 Package includes :
1x Aiyima T10 Bluetooth Tube Preamplifier
2x Jan 5654 Tubes
1x Bluetooth Antenna
1x PC-USB Cable
1x Remote Control
1x Manual
1x 12V Power Adapter
Tech specs
Chipset

SA9123L+ES9018K2M+OPA1656+NJW1194+QCC3031+Jan5654+47 Headphone Amplifier

PC-USB Sampling Rate

24-bit/192kHz, 16-bit/192kHz, 24-bit/96kHz

PC-USB Operating System

Windows XP, VIsta,7,8,10 / Mac OS / Linux

Bluetooth / Optical / Coaxial Sampling Rate

24-bit 44.1kHz / 24-bit 192kHz / 24-bit 192kHz

Bluetooth Chip

QCC3031, Bluetooth 5.0, Stereo, supports IIS, SPDIF, HFP, TWS, aptX, aptX HD

Tube Model

JAN5654

Replaceable Tube Models

6Ж1п, 6AK5, 6K4, EF95, etc.

Distortion

RCA : 0.08%
HP : 0.105%

Frequency Response

RCA : 20-20KHz ±0.2dB
HP : 20-20KHz ±0.2dB

Signal To Noise Ratio

RCA : 108dB
HP : 106dB

Input Sensitivity

2V

Output Power (Tube : On)

RCA : 2.2v
HP : 140mW

Output Power (Tube : Off)

RCA : 2.5v
HP : 180mW

Amp impedance

16-300Ω

Input Mode

RCA / Bluetooth / PC-USB / Optical / Coaxial

Supported Devices

Mobile Phones, Tablets, Computers, MP3, TV, etc.
The preamp does not support singing and playing.

Output Mode

Headphone Amplifier, Active Speaker, Power Amplifier + Passive Speaker

Power Supply

DC12V

Size

116 x 98 x 54mm


Net Weight

490g


Package Weight



810g

TechX Guarantee
We understand the anxiety of shopping online in Malaysia particularly on startup and small business website; you don't get to physically hold the product before buying, how will you know if the product will live up to your expectations,... - which is why we are committed to
Only sell/advertise products or brands that we believe in

Thoroughly research a product/model to save you time and get the most value for your money

Go the extra mile to properly package items for shipping

Rely on reputable courier service (*not necessarily the cheapest)

Provide second to none customer service (Lazada/Shopee gets thousands of visitors a day, we have Only You to focus on)

Safeguarding your privacy & offer a seamless user experience on our ecommerce webpage

Ensure all pages and content on TechX are accessed using SSL encryption (*look for the padlock icon on the left side of the address bar...SSL allows sensitive information such as credit card numbers, login credentials to be transmitted securely)

Your satisfaction! We believe we sourced for the best quality products around, however sometimes life happens. If for any reason you are not 100% satisfied with the quality of any product, we will gladly refund your money + 20% of what your paid
In the event you still need further assurance, write to us via our Contact Form and we'll get back within 2 hours.