Our take
AIYIMA D05 Bluetooth 5.0 Power Amplifier 120Wx2 Stereo HiFi 2.1 CH Digital Sound Amplifier 24Bit/192kHz Class D Amp USB DAC Coaxial Optical OLED AptX, Support Subwoofer & with Remote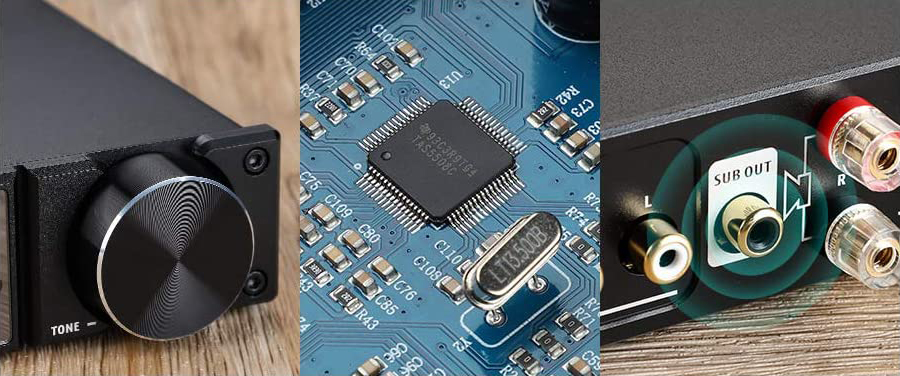 Uses the classic TAS5508 (DSP) + TAS5532A power amplifier chip, max output power is 120W+120W, load 4 ohm speaker, lets you enjoy Stereo Hi-Fi Music

Bluetooth uses QCC chip, version 5.0, supports Apt-X and Apt-X LL lossless transmission, low frequency output is specially designed to connect active subwoofer, it is very easy to build a 2.1 channel system

With treble and bass adjustment of ±12 dB and EQ effect, the sound is more delicate, reasonable current layout and simple wiring, using aluminum alloy shell and gold-plated terminals, to ensure HiFi clear and pure sound, exquisite appearance and with large OLED display screen and remote control design bring you different enjoyment

Four audio input working modes : Bluetooth, PC-USB, Optical, Coaxial, RCA, with a world of input mode options, meets all your different needs, perfectly compatible with most home audio equipment, such as mobile phones, computers, tablets, TVs, MP3, CD players, etc.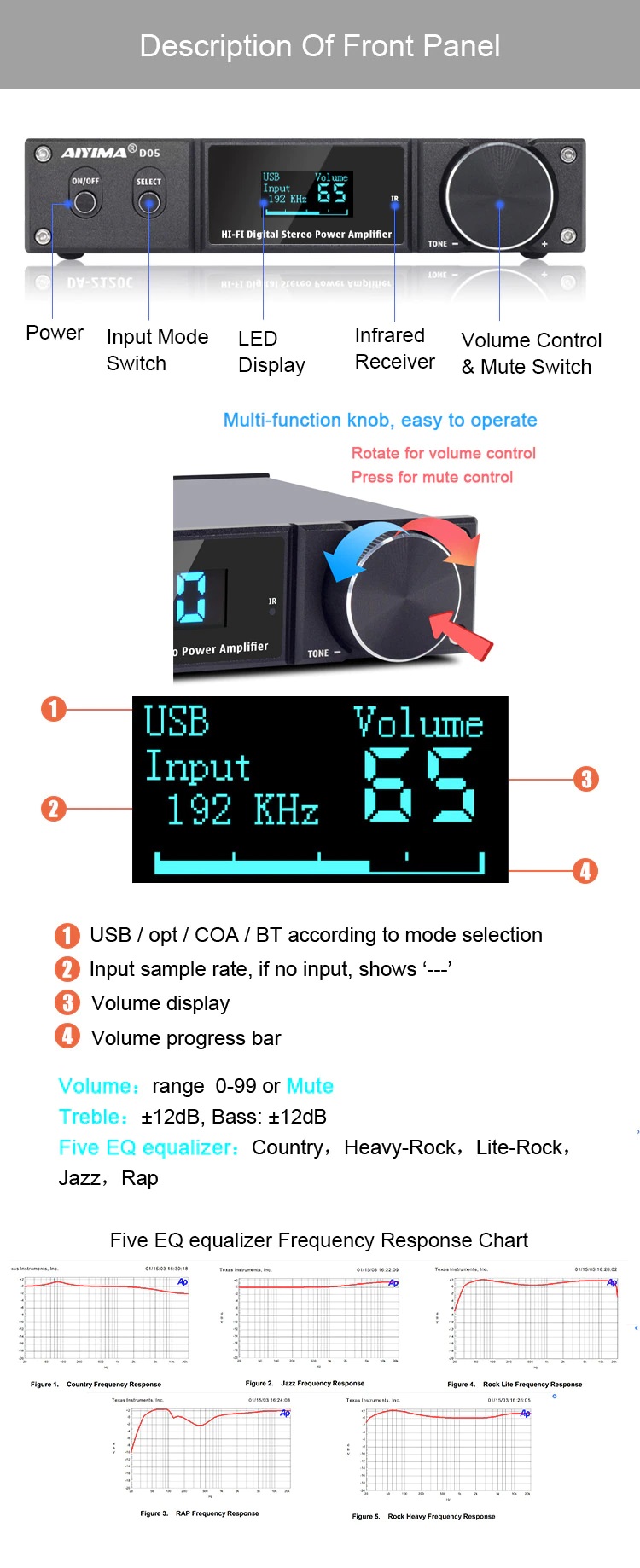 Product details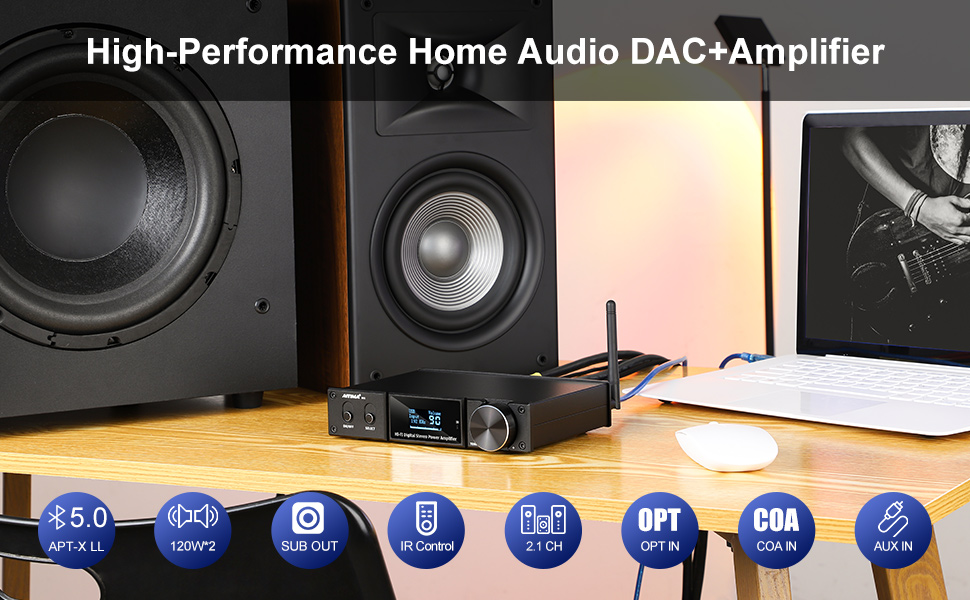 Instructions For PC-USB Operation:
1. Connect the PC-USB interface of the rear surface of the machine with factory provided USB cable (USB can support hot plug)
2. Press the input signal selection switch to select USB input.
3. The icon with horn symbol in the lower right corner of PC
4. Click right button to pop up the dialog window and right click mouse
5. Select the playback device recognized by PC in the pop-up dialog window (USB of this machine is automatic identification, no manual installation and drive)
6. Click to confirm the identified digital output
Note : If no audio output when you connect TV, you need to adjust the TV audio source output to optical fiber, coaxial output. Pay attention to switch to the corresponding input mode.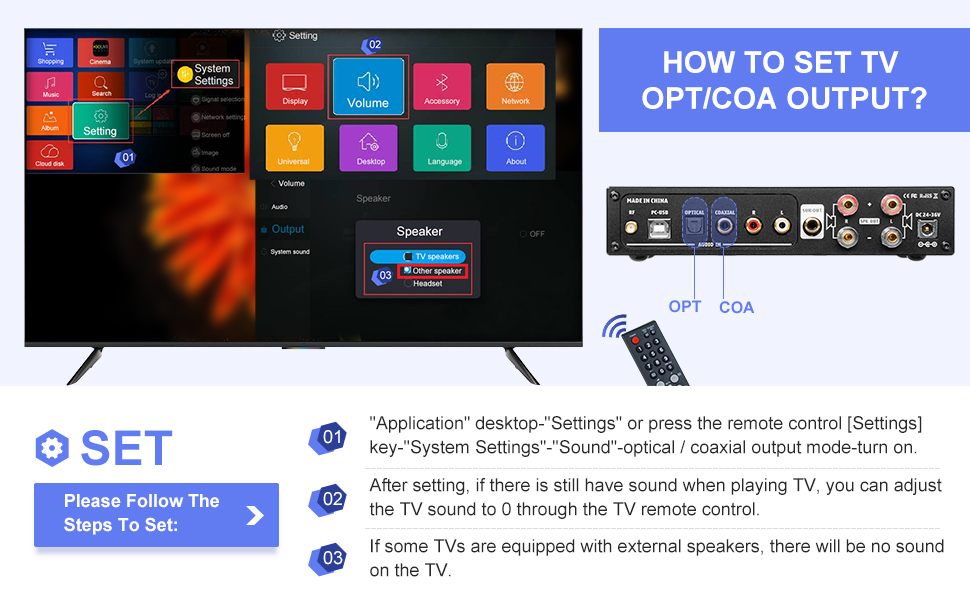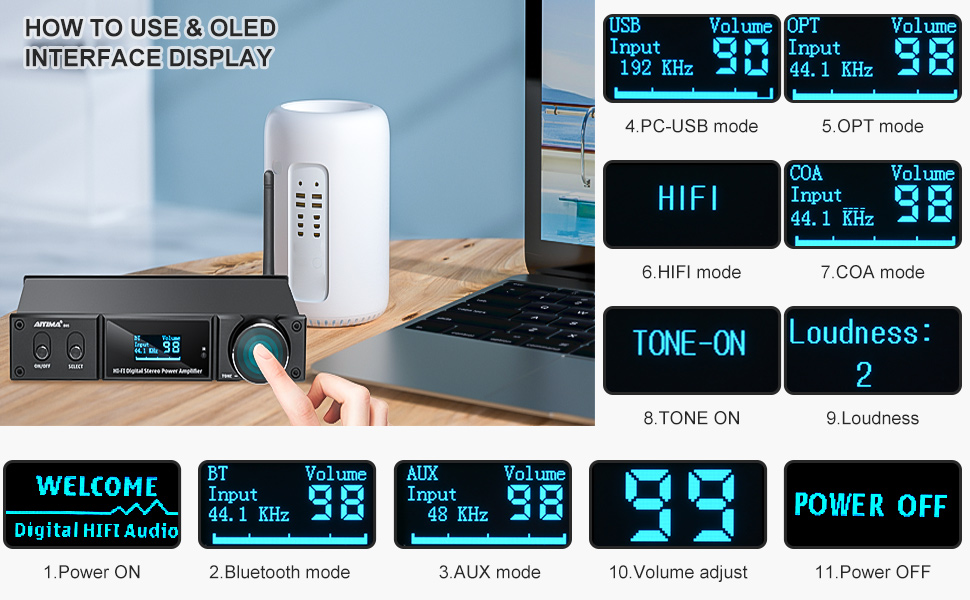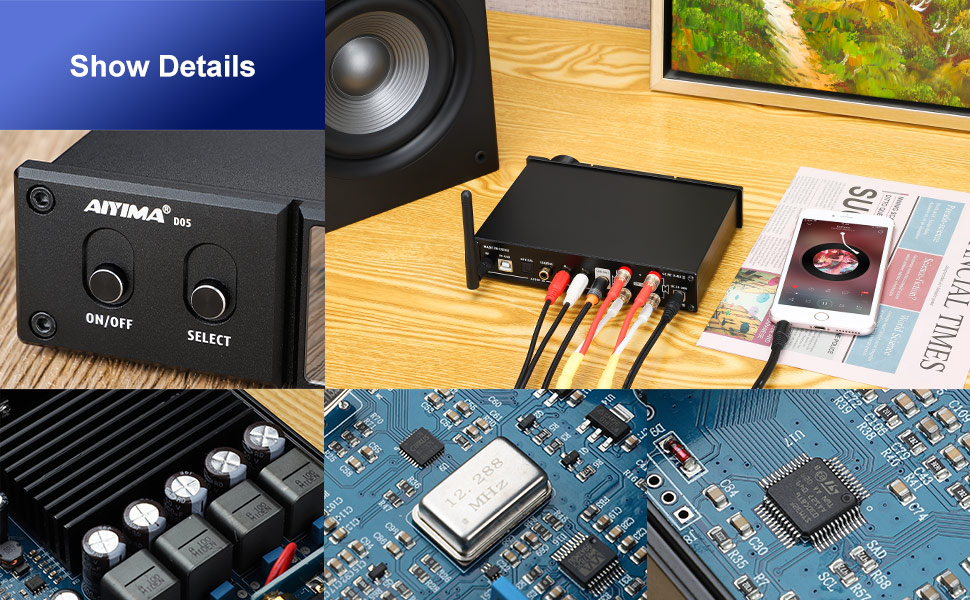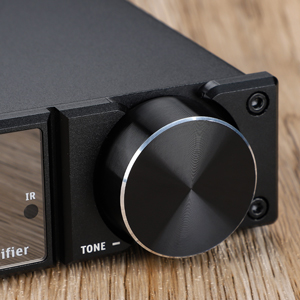 120W+120W HiFi Home DAC Amplifier
2.1 Channel Bluetooth Amplifier
OLED Display
Remote Control, EQ mode selection
Multi-function knob, exquisite appearance design
High-Performance Chipset
Lets you enjoy HiFi sound!
Drive Passive Speakers + Powered Subwoofer
120 Watt per channel power output can drive most home passive speakers to create astonishing sound.
Using an active subwoofer allows you to enjoy a powerful and high quality sound.
Three Selection Of Sound System
2.0 Passive Speaker

2.0 Passive Speaker + Active Subwoofer Speaker

2.0 Passive Speaker + Subwoofer Amplifier + Passive Subwoofer Speaker
Package Includes :
1x Aiyima D05 Bluetooth DAC Power Amplifier
1x 32V 5A Power Adapter
1x Remote Control
1x Bluetooth Antenna
1x PC-USB Cable
1x Optical Cable
1x User Manual

Tech specs
Chipset

CM6642, TAS5508, TAS5352A, CS8422, WM8782

Working Voltage

DC 24-36V, do not exceed 36V (package includes 32V 5A power adapter)

Input Sensitivity

0.775V

Frequency Response

20Hz-20kHz (±1dB)

SNR (Signal-To-Noise Ratio)

≥105dB

Distortion

0.001% (PC

-USB, Optical

)
0.01% (Bluetooth)

Bluetooth Version

5.0

Bluetooth Support

ACC, SBC, AptX, AptX LL

Speaker Match Resistance

4-8 ohm

Amplifier Max Output Power

120W+120W, load 4 ohm speaker

PC-USB Support Max Sample Rate

PCM 192kHz/24Bit

Coaxial Support Max Sample Rate

PCM 192kHz/24Bit

Optical Support Max Sample Rate

192kHz/24Bit

PC-USB Support System

XP, W7, W10, Mac, Linux, Mobile Phone OTG

Audio Input

Bluetooth, PC-USB, Optical, Coaxial, RCA

Audio Output

Banana Jack, Golden Subwoofer Output (connect with active subwoofer speaker)

Product Size

183mm x 128.5mm x 37mm

Package Weight

1.8kg

TechX Guarantee
We understand the anxiety of shopping online in Malaysia particularly on startup and small business website; you don't get to physically hold the product before buying, how will you know if the product will live up to your expectations,... - which is why we are committed to
Only sell/advertise products or brands that we believe in

Thoroughly research a product/model to save you time and get the most value for your money

Go the extra mile to properly package items for shipping

Rely on reputable courier service (*not necessarily the cheapest)

Provide second to none customer service (Lazada/Shopee gets thousands of visitors a day, we have Only You to focus on)

Safeguarding your privacy & offer a seamless user experience on our ecommerce webpage

Ensure all pages and content on TechX are accessed using SSL encryption (*look for the padlock icon on the left side of the address bar...SSL allows sensitive information such as credit card numbers, login credentials to be transmitted securely)

Your satisfaction! We believe we sourced for the best quality products around, however sometimes life happens. If for any reason you are not 100% satisfied with the quality of any product, we will gladly refund your money + 20% of what your paid
In the event you still need further assurance, write to us via our Contact Form and we'll get back within 2 hours.