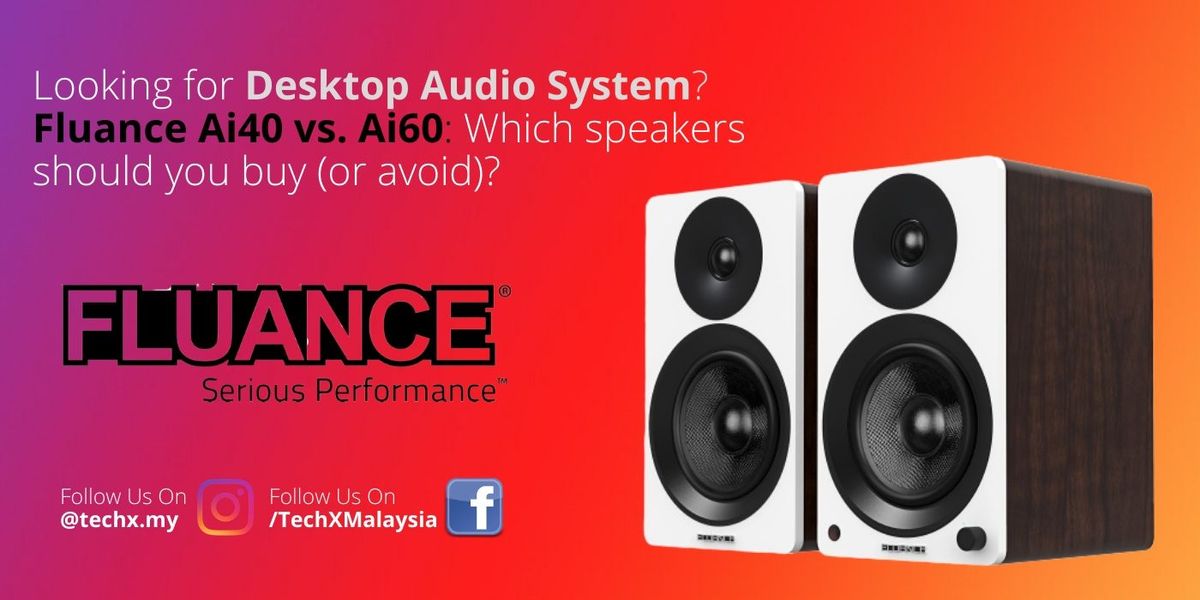 Are you looking for a powered computer speaker with Bluetooth aptX to take your music listening experience to the next level? These days, active bookshelf speakers are becoming common day by day. There are a lot of speakers in the market. Have you heard of Fluance? In this guide, we are going to cover Fluance Ai40 & Ai60 technical specifications, sound quality evaluations, customer reviews and where you can buy or test these speakers in Malaysia. Let's dive in!
Where Fluance is based, and is Fluance bookshelf speakers any good?
Fluance is a Canadian Hi-Fi company that offers a wide variety of sound speaker systems. It was established back in the year 1999. Their vision as a home audio company is to utilize superior components and expert audio engineering to revolutionize the concept of home audio affordability and as such, we see Fluance as a strategic partner which aligns with TechX's goals and ambition. In our opinion, the Fluance bookshelf speakers are of high-quality based on performance, construction, style, and sound reproduction. For less than RM1500 price tag, there are only a handful of other powered bookshelf speakers comes close to the Ai40s.
" Fluance's stereo Bluetooth speakers sound is almost too good to be true!"
(Steve Guttenberg – CNET's Audiophiliac)
"Fluance speakers offer exceptional audio performance for the money."
(TechX Malaysia)
Fluance Ai40 vs. Ai60
Fluance Ai40 Review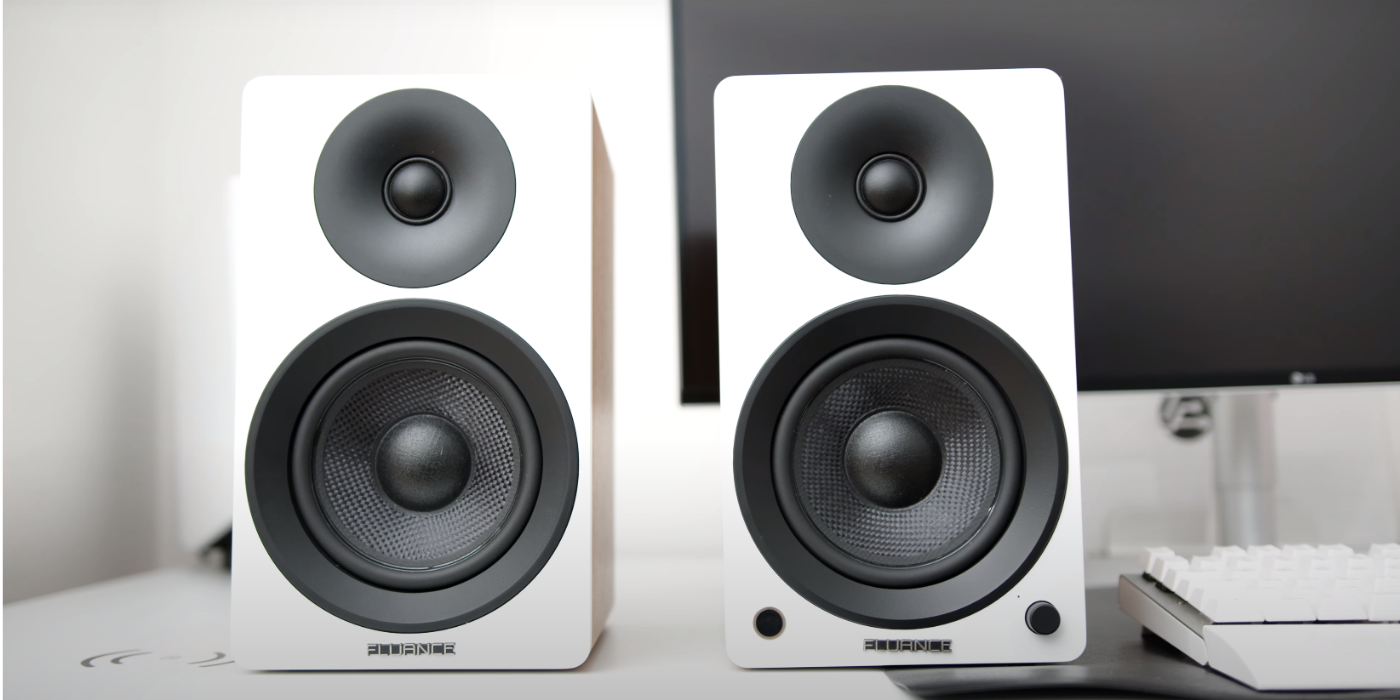 What is it that you get with this speaker?
· 1-inch silk soft dome tweeters
· 5-inch woven glass fiver drivers
· Integrated 70W Class D amplifier
· 2x 35 watts
· 40Hz – 20kHz Frequency response
· Elegant cabinets made from MDF (Medium-density fiberboard)
· Includes aptX support
Now, let's talk about how it sounds.
What we like most about this speaker is the vocal clarity you'll hear in the midrange region. These speakers somehow reproduce really good musical details and instruments for this kind of money. The bass is incredibly deeper for a speaker of this size. Fluance Ai40 is a sealed speaker, not a ported speaker. Most speakers of this size and type are ported and the Ai40 isn't. So maybe that's why the bass is unusually well defined.
If there's one weakness we could identify with the Ai40, it would be the tweeter. It isn't exactly the most refined, pure sounding tweeter. Having said that, the Fluance Ai40 gets so many things right or better – for less than RM1500, you would be hard-pressed to find a better powered bookshelf speaker. Steve Guttenberg from CNET calls it a rave, state of the art for ~RM 1300 a pair speaker. Comes in Black Ash, Walnut, White Walnut finishing.
These speakers do not require a separate receiver or amplifier to connect to the audio source. In addition to precision-crafted wood cabinets and premium components, as we have noticed, Fluance Ai40 speakers also come with remote control, which further adds to its functionality.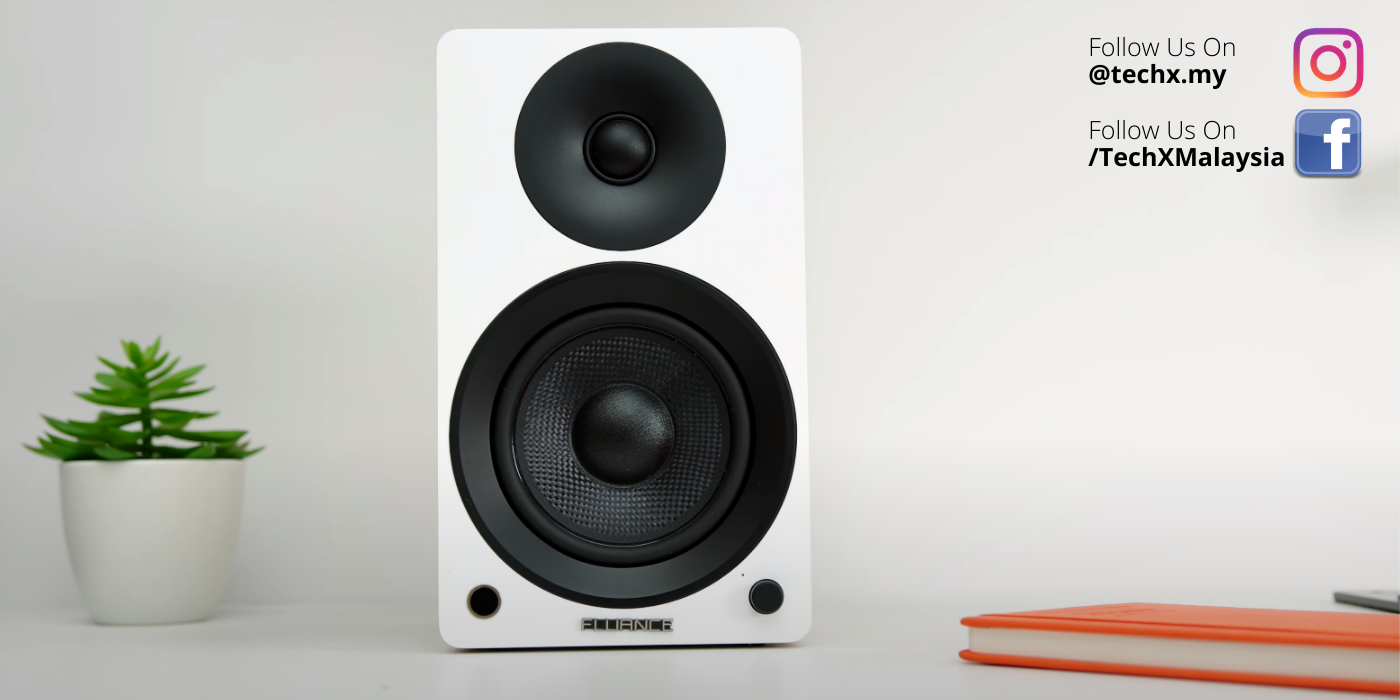 Amazon/ Fluance Customer Review
"…I was so blown away at the quality of the speakers and the clarity of the sound. Listening to these made me appreciate the music again!"
"…My first impression: I was blown away. The sound was superb and the fit and finish was fantastic. Above all else though, I could not believe the sound that they produced. Truly sublime! The highs are clear, and I now hear details that I hadn't noticed before."
"…From the mama's & the poppa's,to Led Zeppelin to Phill Collins-In the air tonight, to boy George - play me, these speakers deliver the goods. From crisp highs to plunging bass with clarity all the way."
"…After much research I decided to go with ai40's. Never had purchased Fluance before now. I'm so critical at times I almost did not want to believe the hype around this product. These speakers are incredible. The Bass really stands out as I'd never noticed before. I could go on and on, but these are amazing."
Fluance Ai60 Review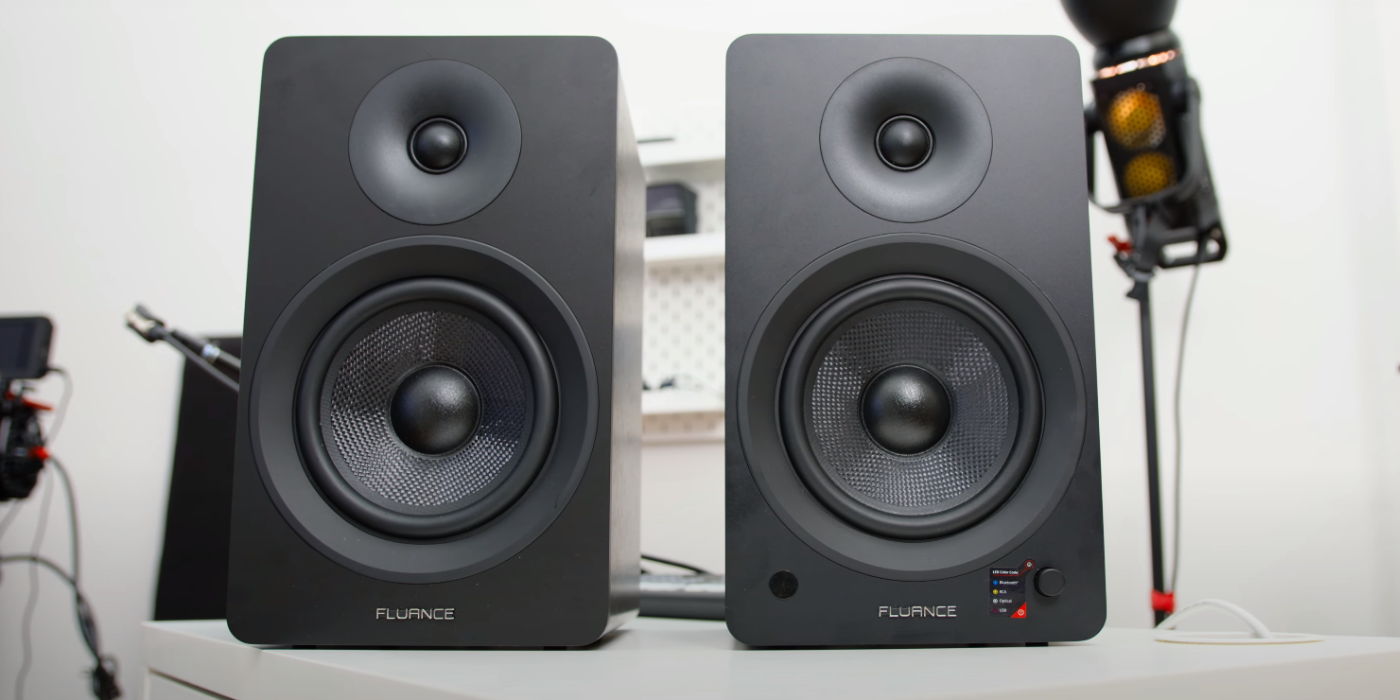 What can you get with these speakers?
· 1-inch silk soft dome tweeters
· 6.5-inch woven glass fiber drivers
· Integrated 100W Class D amplifier
· 2x 50 watts
· 35Hz – 20kHz Frequency response
· Includes optical connections and aux input
· Beautiful cabinet design
· Subwoofer output
Now, let's talk about how it sounds.
Fluance Ai60, an affordable powered speaker that is geared towards the real-world audio enthusiast. These speakers offer exceptional performance for the money, however there are some problems we need to talk about. Let's start off by going over the character of this speaker, the sound you are going to experience is a rich and warm audio presentation. These speakers are not for the audiophiles who are trying to discern every single little detail & to get the most neutral performance that they can for the money.
The Fluance Ai60 is for someone who's looking for something that's full sounding, warm and wants to have fun with the music listening experience. It is very lively and exciting; music presentation comes with a sense of occasion to it. The midrange is very full and warm sounding, now if you're excessively concerned with the minor details then, it does kind of over-saturate things a little. To a certain extent it does make male vocals sound like they've gained just a little bit of weight! The bass is incredibly strong and very well extended for a speaker that's sealed and of this size. If you like bass, you're going to love these speakers. Overall, these speakers are better for desktop use or maybe as a soundbar replacement, or something that you use for a bedroom or a living room where you're not going to be very critical about the listening experience.
Alrighty, let's get down to some of the problems. The inconvenient thing about these speakers is that they don't remember what input they're on when you turn them on and off. Secondly, there's no screen or display to show where your settings for bass and treble control are. Lastly, in a traditional hi-fi setup, the built-in DSP sometimes compresses the sound thus reducing the dynamic range. Frankly, the Ai60 does have a lot going for it though – build quality, features, and sound. Fluance Ai60 delivers a full range presentation in a desktop environment, it's very fun and engaging to listen to at this price point.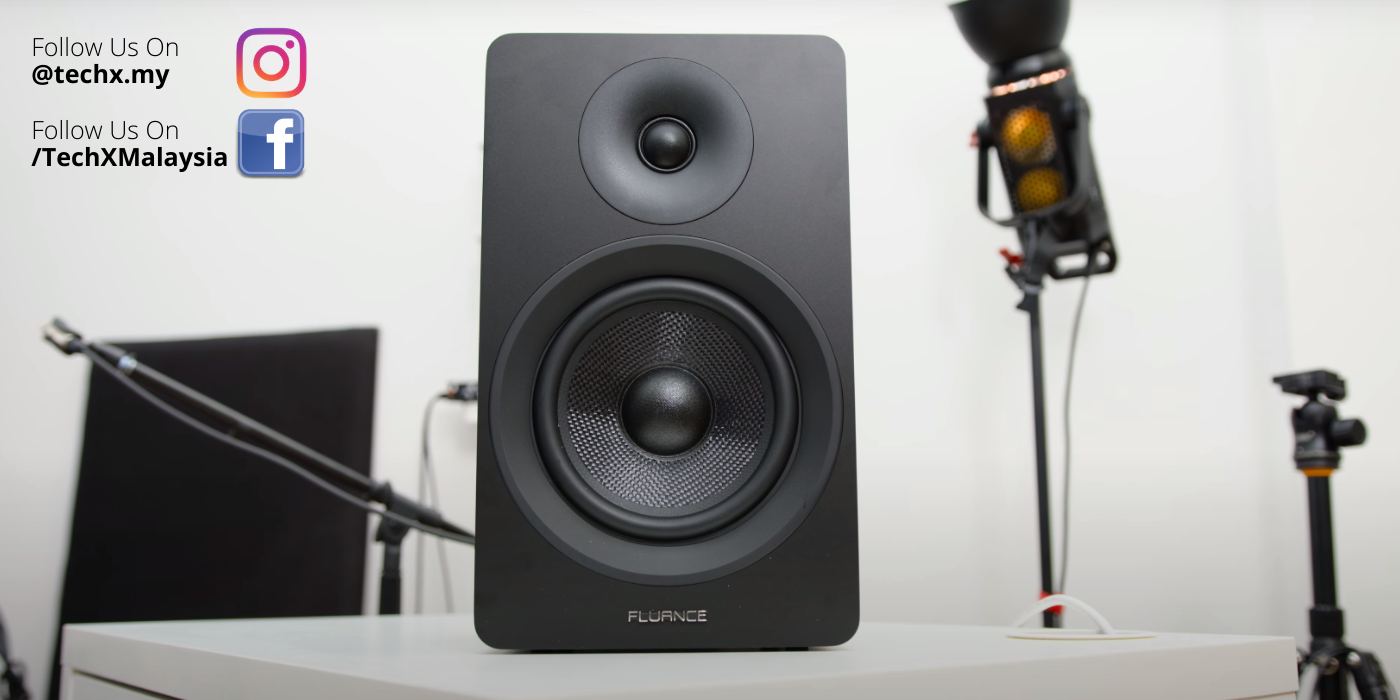 Amazon/ Fluance Customer Review
"If YOU are in the market for some good powered computer speakers, which aren't your run of the mill Logitech's or would out-perform a typical 2.0 set-up, consider these. They look absolutely incredible.. (White & Walnut? Pfffft C'mon!) but they also sound great.'
"If you've been looking for some speakers with some serious oomph look no further. I'll admit I was skeptical about these when I bought them. I usually find powered bookshelves in this price range less than underwhelming. In fact they're usually just flat out disappointing. Not so with these. While I wouldn't say they're "perfect", they're the next best thing for the money. The highs are clear, the mids are crisp and well balanced with the highs. The lows, well, they're very low. I haven't heard a bookshelf with this low, clear, and tight of bass response with as much output as these without spending 2x-3x as much."
"After a slow and methodical break-in, I really enjoy the clarity of these speakers. At first they sounded harsh and heavy with a droning sound not so pleasant but that only lasted about the first half-hour. They improve as the break-in time proceeds, this is a very important step in my opinion. Take the time to break in properly and you won't be disappointed. The construction quality is solid and very durable looking, nice and heavy. Everything from Folk to Heavy Metal. I like a variety of sound so clarity in the midrange is an important proper break-in to help bring the mids out. Bass is a heavy hitter with these but you can manage it with the remote. Love Them, Awesome Speakers!!!"
Now, let's briefly summarize the differences in terms of specifications, build quality and sound performance.
Fluance Ai40 speaker comes with 5-inch high performance woven drivers, 1-inch silk dome tweeters and an integrated 70W Class D amplifier. Whereas Fluance Ai60 has bigger midrange/ woofer driver, an integrated 100W Class D amplifier, Cirrus Logic CS8416 internal DAC, a frequency range of 35Hz to 20kHz via DSP Virtual Sound, more feature/inputs & a sub out as compared to Ai40. Both the Ai40 & Ai60s are perfect desktop audio setup! Ultimately, the final call depends on your personal sound preference, budget, speaker size & setup. Schedule an appointment with us to help you make an informed decision.
Where to buy Fluance speakers in Malaysia?
If you are based in Malaysia, you can buy Fluance powered bookshelf speakers from TechX. TechX is a popular online home audio and HiFi store in Malaysia. If you wish to hear these speakers, simply walk-in to our physical retail store is in Damansara Perdana, located just beside the well-known Armanee Terrace 1 and in the vicinity of other affluent neighborhoods and shopping complexes (i.e Ikea Damansara, The Curve, …).
Conclusion
Both the speakers mentioned above are all-in-one models and do not require a separate amplifier or receiver. Our personal recommendation is to consider the Fluance Ai40 powered bookshelf speakers if budget and space is a constraint. However, if you are searching for a bigger speaker with more features/input, richer bass depth, then we suggest you to try out Fluance Ai60. Head to our physical retail store in Damansara Perdana. You can buy or test the speakers from our store, keeping in view your budget and functionality of the speakers. Feel free to drop us a WhatsApp at +60142511062 for further queries!